01.12.2015 | Research article | Ausgabe 1/2015 Open Access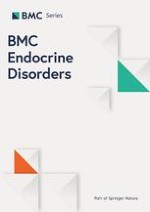 Two-year assessment of the efficacy and safety of sitagliptin in elderly patients with type 2 diabetes: Post hoc analysis of the ASSET-K study
Zeitschrift:
Autoren:

Shinichi Umezawa, Akira Kubota, Hajime Maeda, Akira Kanamori, Kiyokazu Matoba, Yasuyuki Jin, Fuyuki Minagawa, Mitsuo Obana, Kotaro Iemitsu, Shogo Ito, Hikaru Amamiya, Mizuki Kaneshiro, Masahiko Takai, Hideaki Kaneshige, Kazuhiko Hoshino, Masashi Ishikawa, Nobuaki Minami, Tetsuro Takuma, Nobuo Sasai, Sachio Aoyagi, Takehiro Kawata, Atsuko Mokubo, Yukiko Miyairi, Hiroshi Takeda, Shin Honda, Hideo Machimura, Tetsuya Motomiya, Manabu Waseda, Yoshikazu Naka, Yasushi Tanaka, Yasuo Terauchi, Ikuro Matsuba
Wichtige Hinweise
Competing interests
The authors declare that they have no competing interests.
Authors' contributions
SU, AK, HM (Maeda), AK (Kanamori), KM, YJ, FM, MO, KI, SI, HA, MK, MT, HK, KH, YM, and IM carried out acquisition of data. SU, AK, HM (Maeda), AK (Kanamori), MI, NM, TT, NS, SA, TK, AM, HT, SH, HM (Machimura), TM, MW, YN, YT (Tanaka), YT (Terauchi), and IM analysed and interpreted the data. SU, AK, HM (Maeda), AK (Kanamori), KM, YJ, FM, MO, and IM drafted the manuscript. KI, SI, HA, MK, MT, HK, KH, MI, NM, TT, NS, SA, TK, AM, YM, HT, SH, HM (Machimura), TM, MW, YN, YT (Tanaka), and YT (Terauchi) revised the manuscript for important intellectual content. All authors read and approved the final version.
Abstract
Background
There have only been a few reports about use of dipeptidyl peptidase 4 (DPP-4) inhibitors in elderly patients with type 2 diabetes mellitus (T2DM), suggesting that the safety of these agents has not been sufficiently demonstrated. We performed a comparative review of the efficacy and safety of sitagliptin for Japanese patients with T2DM managed in the real-world clinical setting.
Methods
An age-stratified analysis was performed of 831 patients who were treated with sitagliptin for 2 years. Parameters assessed included the hemoglobin A1c (HbA1c), body weight, serum creatinine, and adverse events. HbA1c and the incidence of hypoglycemia were also evaluated in patients treated with sitagliptin and a sulfonylurea (SU), who were divided into three age groups (<65 years, 65–74 years, and ≥75 years).
Results
Comparison of glycemic control parameters, laboratory values, and adverse events revealed significant improvement of HbA1c, casual postprandial plasma glucose, and fasting plasma glucose in each age group with no change in body weight. Serum creatinine increased significantly in all age groups. Hypoglycemia only occurred in patients who received combined treatment with an SU and sitagliptin, and there was no age-related difference in its incidence.
Conclusions
HbA1c was improved by 2 years of sitagliptin therapy in all three age groups, and age did not seem to influence the incidence of hypoglycemic events. These results confirm the efficacy and safety of sitagliptin in patients ≥ 75 years old, suggesting that it is also useful for treating elderly patients with T2DM.