01.07.2017 | Retinal Disorders | Ausgabe 10/2017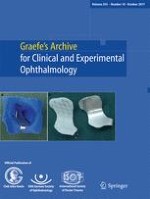 Two-year results of a treat-and-extend regimen with aflibercept for polypoidal choroidal vasculopathy
Autoren:

Masahiro Morimoto, Hidetaka Matsumoto, Kensuke Mimura, Hideo Akiyama
Abstract
Purpose
To evaluate the effects of aflibercept therapy using a treat-and-extend regimen on treatment-naïve polypoidal choroidal vasculopathy (PCV).
Methods
In a retrospective interventional case series of 58 eyes of 58 patients with PCV, we assessed best-corrected visual acuity (BCVA), central macular thickness (CMT), central choroidal thickness (CCT), and number of injections for 2 years. Polypoidal lesions were also evaluated before treatment and after the loading phase by indocyanine green angiography.
Results
BCVA significantly improved after the loading phase and was maintained in the maintenance phase. CMT and CCT significantly reduced after the loading phase and were maintained throughout the follow-up period. The number of injections averaged 7.72 in the first year and 4.67 in the second year. The average number of polypoidal lesions per patient was 2.43 before treatment. In 32 patients (55.2%), polypoidal lesions regressed completely after the loading phase; these patients also needed significantly fewer injections compared to other patients. CCT at baseline was positively correlated with the decreased amount of CCT after 2 years and negatively correlated with the number of injections for 2 years.
Conclusions
Treat-and-extend intravitreal therapy with aflibercept may be effective for improving BCVA and exudative change in eyes with PCV. The regression of polypoidal lesions after the loading phase and thicker choroid at baseline might lead to fewer total number of intravitreal injections of aflibercept.