01.12.2015 | Research article | Ausgabe 1/2015 Open Access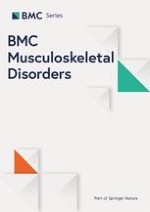 Type II collagen and glycosaminoglycan expression induction in primary human chondrocyte by TGF-β1
Zeitschrift:
Autoren:

Hyun Joo Yoon, Suk Bum Kim, Dhara Somaiya, Moon Jong Noh, Kyoung-Baek Choi, Chae-Lyul Lim, Hyeon-Youl Lee, Yeon-Ju Lee, Youngsuk Yi, Kwan Hee Lee
Wichtige Hinweise
Hyun Joo Yoon and Suk Bum Kim contributed equally to this work.
Competing interests
All of the authors except for Suk Bum Kim are employees of TissueGene Inc. or Kolon Life Science. TissueGene Inc. will pay the fees for publication and editing of this paper. TissueGene Inc. owns the patent rights to protect the commercialization of TG-C.
Authors' contributions
HY designed and performed the study of expression studies. SK interpreted the data and provided useful discussions. DS performed quantitative PCR experiments. MN designed the study and provided useful discussions. KC, CL, and HL performed chondrocyte binding assay and animal experiments. YL produced TGF-β1 constructs. YY wrote the manuscript. KL had the original idea for the project, revised the manuscript and decided the direction of discussion. All authors read and approved the final version of the manuscript.
Abstract
Background
A localized non-surgical delivery of allogeneic human chondrocytes (hChonJ) with irradiated genetically modified chondrocytes (hChonJb#7) expressing transforming growth factor-β1 (TGF-β1) showed efficacy in regenerating cartilage tissue in our pre-clinical studies and human Phase I and II clinical trials. These previous observations led us to investigate the molecular mechanisms of the cartilage regeneration.
Methods
Genetically modified TGF-β1preprotein was evaluated by monitoring cell proliferation inhibition activity. The effect of modified TGF-β1 on chondrocytes was evaluated based on the type II collagen mRNA levels and the amount of glycosaminoclycan (GAG) formed around chondrocytes, which are indicative markers of redifferentiated chondrocytes. Among the cartilage matrix components produced by hChonJb#7 cells, type II collagen and proteoglycan, in addition to TGF-β1, were also tested to see if they could induce hChonJ redifferentiation. The ability of chondrocytes to attach to artificially induced defects in rabbit cartilage was tested using fluorescent markers.
Results
Throughout these experiments, the TGF-β1 produced from hChonJb#7 was shown to be equally as active as the recombinant human TGF-β1. Type II collagen and GAG production were induced in hChonJ cells by TGF-β1 secreted from the irradiated hChonJb#7 cells when the cells were co-cultured in micro-masses. Both hChonJ and hChonJb#7 cells could attach efficiently to the defect area in the rabbit cartilage.
Conclusions
This study suggests that the mixture (TG-C) of allogeneic human chondrocytes (hChonJ) and irradiated genetically modified human chondrocytes expressing TGF-β1 (hChonJb#7) attach to the damaged cartilage area to produce type II collagen-GAG matrices by providing a continuous supply of active TGF-β1.