21.08.2018 | Laboratory Investigation | Ausgabe 2/2018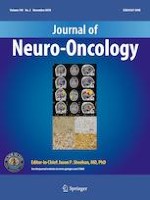 UAB30, a novel RXR agonist, decreases tumorigenesis and leptomeningeal disease in group 3 medulloblastoma patient-derived xenografts
Zeitschrift:
Autoren:

Evan F. Garner, Laura L. Stafman, Adele P. Williams, Jamie M. Aye, Caroline Goolsby, Venkatram R. Atigadda, Blake P. Moore, Li Nan, Jerry E. Stewart, Anita B. Hjelmeland, Gregory K. Friedman, Elizabeth A. Beierle
Wichtige Hinweise
Electronic supplementary material
Abstract
Background
Group 3 tumors account for approximately 25–30% of medulloblastomas and have the worst prognosis. UAB30 is a novel synthetic rexinoid shown to have limited toxicities in humans and significant efficacy in the pediatric neuroectodermal tumor, neuroblastoma. We hypothesized that treatment with UAB30 would decrease tumorigenicity in medulloblastoma patient-derived xenografts (PDXs).
Methods
Three group 3 medulloblastoma PDXs (D341, D384 and D425) were utilized. Cell viability, proliferation, migration and invasion assays were performed after treatment with UAB30 or 13-
cis
-retinoic acid (RA). Cell cycle analysis was completed using flow cytometry. A flank model, a cerebellar model, and a model of leptomeningeal metastasis using human medulloblastoma PDX cells was used to assess the in vivo effects of UAB30 and RA.
Results
UAB30 treatment led to cell differentiation and decreased medulloblastoma PDX cell viability, proliferation, migration and invasion and G1 cell cycle arrest in all three PDXs similar to RA. UAB30 and RA treatment of mice bearing medulloblastoma PDX tumors resulted in a significant decrease in tumor growth and metastasis compared to vehicle treated animals.
Conclusions
UAB30 decreased viability, proliferation, and motility in group 3 medulloblastoma PDX cells and significantly decreased tumor growth in vivo in a fashion similar to RA, suggesting that further investigations into the potential therapeutic application of UAB30 for medulloblastoma are warranted.