01.07.2013 | Original Research | Ausgabe 1/2013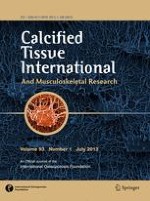 Ubiquitin-Like Domain of IKKβ Regulates Osteoclastogenesis and Osteolysis
Zeitschrift:
Autoren:

Yanhong Zhang, Jesse E. Otero, Yousef Abu-Amer
Wichtige Hinweise
The authors report that they have no conflict of interest.
Abstract
The transcription factor NF-κB family is central for osteoclastogenesis and inflammatory osteolysis. Activation of NF-κB dimers is regulated by a kinase complex predominantly containing IKKα (IKK1), IKKβ (IKK2), and a regulatory subunit, IKKγ/NEMO. IKKα and IKKβ catalyze the cytoplasmic liberation and nuclear translocation of various NF-κB subunits. The requirement of IKKα and IKKβ for normal bone homeostasis has been established. Congruently, mice devoid of IKKα or IKKβ exhibit in vitro and in vivo defects in osteoclastogenesis, and IKKβ-null mice are refractory to inflammatory arthritis and osteolysis. To better understand the molecular mechanism underlying IKKβ function in bone homeostasis and bone pathologies, we conducted structure–function analysis to determine IKKβ functional domains in osteoclasts. IKKβ encompasses several domains, of which the ubiquitination-like domain (ULD) has been shown essential for IKKβ activation. In this study, we examined the role of ULD in IKKβ-mediated NF-κB activation in osteoclast precursors and its contribution to osteoclastogenesis and osteolysis. We generated and virally introduced IKKβ in which the ULD domain has been deleted (IKKβ∆ULD) into osteoclast progenitors. The results show that deletion of ULD diminishes IKKβ activity and that IKKβ∆ULD strongly inhibits osteoclastogenesis. In addition, unlike wild type (WT)-IKKβ, IKKβ∆ULD fail to restore RANKL-induced osteoclastogenesis by IKKβ-null precursors. Finally, we provide evidence that IKKβ∆ULD blocks inflammatory osteolysis in a model of murine calvarial osteolysis. Thus, we identified the ULD as crucial for IKKβ activity and osteoclastogenesis and found that ULD-deficient IKKβ is a potent inhibitor of osteoclastogenesis and osteolysis.