01.12.2015 | Research article | Ausgabe 1/2015 Open Access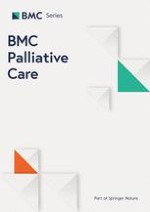 UK quality statements on end of life care in dementia: a systematic review of research evidence
Zeitschrift:
Autoren:

Bridget Candy, Margaret Elliott, Kirsten Moore, Victoria Vickerstaff, Elizabeth Sampson, Louise Jones
Wichtige Hinweise
Competing interests
The authors declare that they have no competing interests.
Authors' contribution
LJ and ES conceived of the study, and participated in its design and helped draft the manuscript. BC participated in the design of the study, conducted the searches, coordinated the study, and drafted the manuscript. ME helped in study selection, extraction and critique, and helped draft the manuscript. KM helped in study selection and critique, and helped draft the manuscript. VV helped in study critique and helped draft the manuscript. All authors read and approved the final manuscript.
Abstract
Background
Globally, the number of people who die with dementia is increasing. The importance of a palliative approach in the care of people with dementia is recognised and there are national polices to enhance current care. In the UK implementation of these polices is promoted by the National Institute for Health and Care Excellence (NICE) Dementia Quality Standards (QS). Since publication of the QS new care interventions have been developed.
Aim
To explore critically the current international research evidence on effect available to inform NICE Dementia QS relevant to end of life (EOL) care.
Design
We used systematic review methods to seek the research evidence for three statements within the Dementia QS. These are those that recommend: (1) a case management approach, (2) discussing and consideration of making a statement about future care (SFC) and (3) a palliative care assessment (PCA). We included evaluative studies of relevant interventions that used a comparative design, such as trials and cohort studies, and measured EOL care outcomes for persons dying with moderate to severe dementia. Our primary outcome of interest was whether the intervention led to a measurable impact on wellbeing for the person with dementia and their family. We assessed included studies for quality using a scale by Higginson and colleagues (2002) for assessment of quality of studies in palliative care, and two authors undertook key review processes. Data sources included Cinahl, Embase, and PsychINFO from 2001 to August 2014. Our search strategy included free text and medical subject headings relevant to population and recommended care.
Results
We found seven studies evaluating a care intervention; four assessed SFC, three PCA. None assessed case management. Studies were of weak design; all used retrospective data and relied on others for precise record keeping and for accurate recall of events. There was limited overlap in outcome measurements. Overall reported benefits were mixed.
Conclusions
Quality statements relevant to EOL care are useful to advance practice however they have a limited evidence base. High quality empirical work is needed to establish that the recommendations in these statements are best practice.