01.12.2017 | Research | Ausgabe 1/2017 Open Access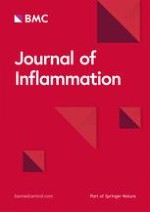 Ulinastatin ameliorates tissue damage of severe acute pancreatitis through modulating regulatory T cells
Zeitschrift:
Autoren:

Yu Pan, Haizong Fang, Fengchun Lu, Minggui Pan, Fei Chen, Ping Xiong, Yi Yao, Heguang Huang
Abstract
Background
Ulinastatin or urinary trypsin inhibitor (UTI) has been shown to ameliorate the inflammatory response induced by experimental severe acute pancreatitis (SAP) and hence reduce the mortality, however the mechanism of its action remains incompletely understood. We have investigated the effect of ulinastatin on regulatory T-cells (Tregs) in an established rat model of SAP.
Methods
We established a rat SAP model by injecting 5% Na-taurocholate into the pancreatic duct and treated the SAP rats with ulinastatin with different dose level (5000, 10000, 30000 U/kg) through intraperitoneal injection at 0, 6 and 12 h.
Results
We showed that the tissue damage of pancreas and the mortality of the SAP rats were significantly reduced by ulinastatin. We also showed that in the SAP rats the frequencies of CD4+ T cells and Tregs, as well as the expressions of TGF-β1, CTLA-4, and Foxp3 were decreased in the SAP animals while IL-1β, IL-10 and TNF-α were significantly increased. Treatment with ulinastatin up-regulated the proportion of Tregs in CD4+ T cells and the expression of IL-10, Foxp3 and CTLA-4 in the SAP rats in a dose dependence fashion, while down-regulating the levels of L-1β and TNF-α, myeloperoxidase (MPO) activity.
Conclusions
Our findings suggest that ulinastatin alleviates inflammatory response and tissue damage in SAP rats by increasing the proportion of Tregs. Our study provides a new mechanism for the beneficial effect of ulinastatin in SAP rat model.