01.06.2014 | Ausgabe 3/2014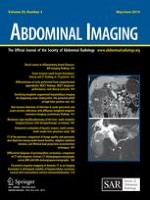 Ultraselective transcatheter arterial chemoembolization for small hepatocellular carcinoma guided by automated tumor-feeders detection software: technical success and short-term tumor response
Zeitschrift:
Autoren:

Shiro Miyayama, Masashi Yamashiro, Masaya Ikuno, Kennichiro Okumura, Miki Yoshida
Abstract
Purpose
To analyze the technical success and tumor response of ultraselective transcatheter arterial chemoembolization (TACE) for small hepatocellular carcinoma (HCC) using automated tumor-feeders detection (AFD) software.
Methods
Prototype AFD software was prospectively applied to cone-beam computed tomography images acquired during TACE for 155 consecutive HCCs ≤50 mm in 81 patients. The detectability of tumor-feeding subsubsegmental arteries was analyzed. Technical success of TACE was classified into three grades according to 1-week CT; the tumor was embolized with a safety margin (5 mm wide for tumors <25 mm, and 10 mm wide for tumors ≥25 mm) (grade A), without a margin in parts (grade B), or the entire tumor was not embolized (grade C). Tumor response at 2–3 months after TACE was also evaluated in 71 patients using the modified Response Evaluation Criteria in Solid Tumors.
Results
One-hundred and twenty-eight (82.6%) tumors were classed as grade A, 17 (11%) as grade B, and 10 (6.5%) as grade C. AFD software could identify 211 (85.4%) of 247 tumor-feeders but not 36 (14.6%). Eighteen (7.9%) were false positive. The tumor response of target lesions in each patient was complete response (CR) in 49 (69%) patients, partial response (PR) in 19 (26.8%), and stable disease (SD) in 3 (4.2%). The overall tumor response was CR in 39 (54.9%) patients, PR in 15 (21.2%), SD in 1 (1.4%), and progressive disease in 16 (22.5%).
Conclusions
AFD software has sufficient performance to identify tumor-feeders and contributes to the high technical success in ultraselective TACE.