01.12.2017 | Research article | Ausgabe 1/2017 Open Access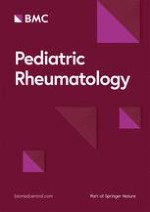 Ultrasound-guided steroid tendon sheath injections in juvenile idiopathic arthritis: a 10-year single-center retrospective study
Zeitschrift:
Autoren:

Shannon E. Peters, Ronald M. Laxer, Bairbre L. Connolly, Dimitri A. Parra
Abstract
Background
The aims of this study were to: (a) Identify tendon sheaths most commonly treated with steroid injections in a pediatric patient population with Juvenile Idiopathic Arthritis (JIA); (b) Describe technical aspects of the procedure; (c) Characterize sonographic appearance of tenosynovitis in JIA; (d) Assess agreement between clinical request and sites injected.
Methods
This was a 10 year single-center retrospective study (May 2006-April 2016) of patients with JIA referred by Rheumatology for ultrasound-guided tendon sheath injections. Patient demographics, clinical referral information, sonographic appearance of the tendon sheaths and technical aspects of the procedure were analyzed.
Results
There were 308 procedures of 244 patients (75% female, mean age 9.6 years) who underwent a total of 926 tendon sheath injections. Ankle tendons were most commonly injected (84.9%), specifically the tendon sheaths of tibialis posterior (22.3%), peroneus longus (20%) and brevis (19.7%). The majority of treated sites (91.9%) showed peritendinous fluid and sheath thickening on ultrasound. There were 2 minor intra-procedure complications without sequelae. A good agreement between clinical request and sites injected was observed.
Conclusions
Ultrasound-guided tendon sheath injections with steroids are used frequently to treat patients with JIA. It is a safe intervention with a high technical success rate. The ankle region, specifically the medial compartment, is the site most commonly injected in this group of patients. The most common sonographic finding is peritendinous fluid and sheath thickening. These findings might assist clinicians and radiologists to characterize and more effectively manage tenosynovitis in patients with JIA.