01.12.2019 | Technical innovations | Ausgabe 1/2019 Open Access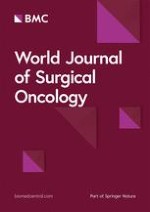 Ultrasound-guided totally implantable venous access ports via the right innominate vein: a new approach for patients with breast cancer
Zeitschrift:
Autoren:

Liang Xu, Wenming Qin, Weiwei Zheng, Xingwei Sun
Wichtige Hinweise
Liang Xu and Wenming Qin contributed equally to this work.
Publisher's Note
Springer Nature remains neutral with regard to jurisdictional claims in published maps and institutional affiliations.
Abstract
Background
To evaluate the feasibility and safety of ultrasound-guided totally implantable venous access port (TIVAP) implantation via the right innominate vein in patients with breast cancer.
Methods
Sixty-seven breast cancer patients underwent ultrasound-guided implantation of TIVAPs via the right innominate vein for administration of chemotherapy. Clinical data including technical success, success rate for the first attempt, periprocedural, and postoperative complications were recorded and retrospectively studied.
Results
All patients underwent successful surgery. The success rate of the first attempt was 95.52% (64/67). The operation time was 28 to 45 min, with an average of 36 ± 6 min. Periprocedural complications included artery punctures in 1 (1.50%, 1/67) patient. Prior to this study, the mean TIVAP time was 257 ± 3 days (range 41 to 705 days). The rate of postoperative complications was 4.48% (3/67), including catheter-related infections in 1 case and fibrin sheath formation in 2 cases. Up to the present study, three people had unplanned port withdrawal due to complications, and the TIVAPs for 25 patients were still in normal use.
Conclusions
The success rate of ultrasound-guided TIVAPs via the right innominate vein is high with low complications, thus safe and feasible. This technique can provide a new option for chemotherapy of breast cancer patients.