08.06.2017 | Original Article | Ausgabe 12/2017 Open Access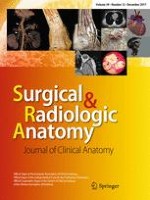 Ultrasound visualization of an underestimated structure: the bicipital aponeurosis
Zeitschrift:
Autoren:

M. Konschake, H. Stofferin, B. Moriggl
Wichtige Hinweise
The authors M. Konschake and H. Stofferin contributed equally to this work.
Abstract
Purpose
We established a detailed sonographic approach to the bicipital aponeurosis (BA), because different pathologies of this, sometimes underestimated, structure are associated with vascular, neural and muscular lesions; emphasizing its further implementation in routine clinical examinations.
Methods
The BA of 100 volunteers, in sitting position with the elbow lying on a suitable table, was investigated. Patients were aged between 18 and 28 with no history of distal biceps injury. Examination was performed using an 18–6 MHz linear transducer (LA435; system MyLab25 by Esaote, Genoa, Italy) utilizing the highest frequency, scanned in two planes (longitudinal and transverse view). In each proband, scanning was done with and without isometric contraction of the biceps brachii muscle.
Results
The BA was characterized by two clearly distinguishable white lines enveloping a hypoechoic band. In all longitudinal images (plane 1), the lacertus fibrosus was clearly seen arising from the biceps muscle belly, the biceps tendon or the myotendinous junction, respectively. In transverse images (plane 2) the BA spanned the brachial artery and the median nerve in all subjects. In almost all probands (97/100), the BA was best distinguishable during isometric contraction of the biceps muscle.
Conclusion
With the described sonographic approach, it should be feasible to detect alterations and unusual ruptures of the BA. Therefore, we suggest additional BA scanning during clinical examinations of several pathologies, not only for BA augmentation procedures in distal biceps tendon tears.