01.02.2019 | ORIGINAL ARTICLE | Ausgabe 3/2019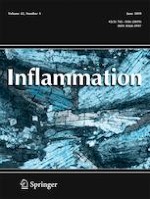 Umbilical Cord Blood Mesenchymal Stem Cells Enhance Lipopolysaccharide-Induced IL-10 and IL-37 Production in THP-1 Cells
Zeitschrift:
Autoren:

Ting Zhou, Yan Sun, Yanli Wang, Xiaobing Chen, Luo Zhuo, Lin Bu, Suo Xu, Jiayan Han, Xiaomin Li, Jiaxin Shi
Wichtige Hinweise
Ting Zhou and Yan Sun contributed equally to this work.
Publisher's Note
Springer Nature remains neutral with regard to jurisdictional claims in published maps and institutional affiliations.
Abstract
Umbilical cord blood mesenchymal stem cells (UCB-MSCs) have been shown to be a source of stem cells for use in cellular therapies and have immunomodulatory effects on several immune cells in an inflammatory environment. However, whether UCB-MSCs have immunomodulatory effects against lipopolysaccharide (LPS)-induced inflammatory cytokine secretion in macrophages and whether it is involved in phosphoinositide 3-kinase/protein kinase B (PI3K/Akt) signaling pathway remain unclear. After co-culture of UCB-MSCs and phorbol 12-myristate 13-acetate (PMA)-activated human THP-1 cells using a transwell system, it showed that LPS significantly induced increases in the expression levels of interleukin 10 (IL-10), interleukin 37 (IL-37), phospho-PI3K (p-PI3K), and phospho-Akt (p-Akt) in macrophages. UCB-MSCs upregulated the expression of IL-10, IL-37, p-PI3K, and p-Akt, while it had no obvious effect on PI3K and Akt levels. Inhibitors of PI3K (LY294002) significantly suppressed the expression of IL-10, IL-37, p-PI3K, and p-Akt; however, it had no effect on the expression levels of PI3K and Akt. The present study demonstrated that UCB-MSCs increased the LPS-stimulated expression of IL-10 and IL-37 in macrophages through the PI3K/Akt signaling pathway.