01.12.2012 | Study protocol | Ausgabe 1/2012 Open Access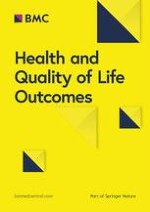 Understanding determinants of nutrition, physical activity and quality of life among older adults: the Wellbeing, Eating and Exercise for a Long Life (WELL) study
Zeitschrift:
Autoren:

Sarah A McNaughton, David Crawford, Kylie Ball, Jo Salmon
Wichtige Hinweise
Competing interests
The authors declare that they have no competing interests.
Authors' contributions
SAM took a leading role in writing the grant that was subsequently funded by the Diabetes Australia Research Trust and the Australian Research Council and drafting the study protocol for publication. All authors contributed to the study design, grant preparation, questionnaire and measures development and contributed to the drafting and editing of the manuscript. All authors read and approved the final manuscript.
Abstract
Background
Nutrition and physical activity are major determinants of health and quality of life; however, there exists little research focusing on determinants of these behaviours in older adults. This is important, since just as these behaviours vary according to subpopulation, it is likely that the determinants also vary. An understanding of the modifiable determinants of nutrition and physical activity behaviours among older adults to take into account the specific life-stage context is required in order to develop effective interventions to promote health and well-being and prevent chronic disease and improve quality of life.
Methods
The aim of this work is to identify how intrapersonal, social and environmental factors influence nutrition and physical activity behaviours among older adults living in urban and rural areas. This study is a cohort study of adults aged 55-65 years across urban and rural Victoria, Australia. Participants completed questionnaires at baseline in 2010 and will complete follow-up questionnaires in 2012 and 2014. Self-report questionnaires will be used to assess outcomes such as food intake, physical activity and sedentary behaviours, anthropometry and quality of life. Explanatory variables include socioeconomic position, and measures of the three levels of influence on older adults' nutrition and physical activity behaviours (intrapersonal, social and perceived environmental influences).
Discussion
Obesity and its determinant behaviours, physical inactivity and poor diet are major public health concerns and are significant determinants of the quality of life among the ageing population. There is a critical need for a better understanding of the determinants of nutrition and physical activity in this important target group. This research will provide evidence for the development of effective policies and programs to promote and support increased physical activity and healthy eating behaviours among older adults.