08.10.2019 | Focussed Research Review | Ausgabe 11/2019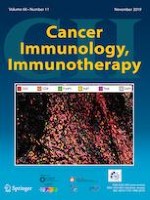 Understanding TCR affinity, antigen specificity, and cross-reactivity to improve TCR gene-modified T cells for cancer immunotherapy
Zeitschrift:
Autoren:

Timothy T. Spear, Brian D. Evavold, Brian M. Baker, Michael I. Nishimura
Wichtige Hinweise
This paper is a Focussed Research Review based on a presentation given at the
Eighteenth International Conference on Progress in Vaccination against Cancer (PIVAC 18
), held in Oslo, Norway, 3rd–5th October, 2018. It is part of a
Cancer Immunology, Immunotherapy
series of
PIVAC 18
papers.
Note on previous publication: Portions of the text within this paper were discussed and published within a doctoral dissertation: (Spear [
1
]).
Publisher's Note
Springer Nature remains neutral with regard to jurisdictional claims in published maps and institutional affiliations.
Abstract
Adoptive cell transfer (ACT) using T cell receptor (TCR) gene-modified T cells is an exciting and rapidly evolving field. Numerous preclinical and clinical studies have demonstrated various levels of feasibility, safety, and efficacy using TCR-engineered T cells to treat cancer and viral infections. Although evidence suggests their use can be effective, to what extent and how to improve these therapeutics are still matters of investigation. As TCR affinity has been generally accepted as the central role in defining T cell specificity and sensitivity, selection for and generation of high affinity TCRs has remained a fundamental approach to design more potent T cells. However, traditional methods for affinity-enhancement by random mutagenesis can induce undesirable cross-reactivity causing on- and off-target adverse events, generate exhausted effectors by overstimulation, and ignore other kinetic and cellular parameters that have been shown to impact antigen specificity. In this Focussed Research Review, we comment on the preclinical and clinical potential of TCR gene-modified T cells, summarize our contributions challenging the role TCR affinity plays in antigen recognition, and explore how structure-guided design can be used to manipulate antigen specificity and TCR cross-reactivity to improve the safety and efficacy of TCR gene-modified T cells used in ACT.