01.12.2010 | Research article | Ausgabe 1/2010 Open Access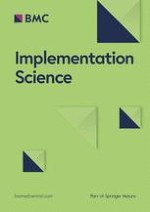 Understanding uptake of continuous quality improvement in Indigenous primary health care: lessons from a multi-site case study of the Audit and Best Practice for Chronic Disease project
Zeitschrift:
Autoren:

Karen L Gardner, Michelle Dowden, Samantha Togni, Ross Bailie
Wichtige Hinweise
Electronic supplementary material
The online version of this article (doi:
10.​1186/​1748-5908-5-21
) contains supplementary material, which is available to authorized users.
Competing interests
The authors declare that they have no competing interests.
Authors' contributions
KG developed the original idea for the paper, conducted the interviews, analysed interview data and data on uptake and cycle completion, and wrote the early draft. MD and RB contributed ideas, assisted with several key interviews, and provided comments on the draft. ST provided comments on the draft and prepared the diagrams. All authors read and approved the final manuscript.
Background
Experimentation with continuous quality improvement (CQI) processes is well underway in Australian primary health care, particularly in Indigenous services where there is considerable interest in using these methods to improve the delivery of a range of core primary health care services [
1
]. These efforts are linked at the policy level to investment in processes and mechanisms that aim to improve the standard and quality of care delivered across the spectrum of treatment, prevention, and promotion activities, and to improve access, efficiency, and safety. While a number of quality initiatives are currently being employed by services, and there is growing experience with implementation in different settings and contexts, little research into how health organizations take up, support, and embed complex innovations like CQI is available on which services can draw [
2
]. In the Australian setting, this may be because of the limited history with experimentation, but more broadly it is also associated with the methods that have traditionally been used to study the effectiveness of complex interventions like CQI--experimental designs that focus on measuring outcomes but are blind to the study of the innovation itself, the contexts into which they are introduced, and the processes of implementation that are utilized [
3
,
4
]. Not only are these methods inadequate for explaining variation in outcomes and enabling the transferability of results between settings [
5
,
6
], they have also resulted in a paucity of robust methodological approaches that can produce analyses useful for informing implementation in the policy and practice worlds. CQI processes are complex interventions that raise technical and administrative challenges and involve subsequent changes to roles, relationships, and routines within organizations in different locations and levels in the system. Understanding these changes, and how organizations deal with them to succeed in implementation, involves the systematic analysis of the development, uptake, and implementation of innovations within their specific contexts.
In this paper, we examine the practices and processes in the policy and organisational contexts that support and/or hinder services' participation in a large scale primary health care quality improvement program. We aim to explore the dynamic interaction of these practices with the particular features of the Indigenous primary health care service environment. Our focus is confined to the initial year of engagement, during which decisions to take up and implement the quality improvement program were first made and organisations moved to implement the system. Our main interest is in understanding the key drivers so that lessons for informing the development of more effective strategies for supporting uptake can be developed.
The program, known as the Audit and Best Practice for Chronic Disease (ABCD) project, began as a demonstration project in 12 Indigenous primary health care services in the Northern Territory in 2002 and has since spread through an extension phase to almost 70 Aboriginal health services in four states and territories. It is an action research project that investigates the impact of organisational systems on the quality of chronic disease care and outcomes for clients. Participating organisations in each jurisdiction employ their own hub coordinator who provides a support and coordination role for that jurisdiction. Formal participation agreements set out the roles and responsibilities of the parties and services undertake to participate in at least three full annual CQI cycles over the life of the extension phase. In return they are able to utilize ABCD audit tools, have their data analysed through the real-time web based system, receive implementation support and participate in a network of ABCD services. Approximately 60 additional services have used the project tools and processes without being formally enrolled in the research project, and it is likely that more services would have joined the research project had funds for hub coordinators been available in other jurisdictions. Ethics approval from research ethics committees in each jurisdiction was obtained.
Like other CQI approaches, ABCD aims to facilitate ongoing improvement by using objective information to analyse and improve systems and service delivery [
7
]. Participating services use annual quality improvement cycles (plan-do-study-act) and a set of clinical audit and system assessment tools to measure the quality of their systems and service delivery in relation to recognized best practice. This information is used to develop action plans that can lead to improvement. Details of the study protocol [
8
] and the impacts on care delivery [
9
] and client outcomes [
10
] have been published elsewhere. In this paper, we focus on factors influencing uptake and establishment of the CQI processes into services in the first cycle.
Methods
We used a mixed method approach across sites participating in the extension phase of ABCD. Sites consist of a regional organization, either an Aboriginal community controlled health corporation and its primary health care services or a government department and the primary health care centres it operates in each region. The paper draws on routinely collected data describing regional and service profiles, uptake of tools, and initial progress through the first CQI cycle; as well as data provided quarterly by hub coordinators in each region about their perceptions of the local level barriers and facilitators to participation. These data were collected in a common structured format and complemented with semi-structured in-depth interview data, as well as data obtained through observation and document review.
Study setting and progress through the first cycle
Aboriginal health services in the Northern Territory, Western Australia, NSW and Queensland participated in the ABCD extension phase that ran from January 2006 to December 2009. We report on 61 of these services, for which data were available between the period January 2006 and December 2008. Enrolment into the project was ongoing throughout the period, with most (33) services joining during 2006, as shown in Figure
1
. Thirty-five services are 'community controlled', that is they are non-government organizations usually run by Indigenous corporations that have CEOs and are governed by community boards. The remaining services are government-run, the majority of which are in the Northern Territory and Queensland. About one-third of all services are accredited (36%). Staffing profiles differ dramatically according to the service location and the size of the populations they serve (range from around 33,000 in metropolitan areas to less than 100 in remote locations). Some remote services, for example, have only a clinic nurse manager and an Aboriginal health worker with visiting medical and allied health services provided on a rostered basis.
×
Forty services (65%) completed all steps in the first cycle. This included completing the signed agreement, conducting the diabetes and preventive services clinical audits and the systems assessment, providing feedback, and conducting an action planning workshop. Of those that did not complete all steps, six services made an active decision not to follow the process as recommended, preferring to adapt the feedback component of the cycle. Others were either delayed (3) or withdrew (2). Only 26 services completed the steps in the cycle within the recommended three-month timeframe. A variety of reasons accounted for these differences, some internal to the service and organisational environments and local community, and others in the broader service system. The key influences associated with initial uptake and progress through the first cycle are discussed below. The extent to which the use of selected tools was sustained across the full three cycles of the project will be the subject of a later paper.
Data collection and analysis
We took a theory-driven approach to inform data collection and analysis, drawing on literature on the theory and effectiveness of performance management and CQI systems [
11
,
12
], and using the Greenhalgh diffusion of innovation framework as the organizing framework for data collection, including the structured self-report data from hub coordinators and for the semi-structured interview schedules. The Greenhalgh framework was developed through a systematic review and is a multi-tiered model of uptake and implementation of complex innovation in health organizations. It identifies the key domains or areas in which factors influencing uptake and implementation are found. These are in the attributes of the innovation and the change agency within which it sits; the process of diffusion or dissemination; elements of the user system; and in the outer system context.
A total of forty-eight interviews were conducted at the study sites and with government officials and key people involved in the development and dissemination of the ABCD project. At the health service delivery end, interviews were held with regional program managers, health centre managers, and clinicians. In the policy sphere, key health bureaucrats who had some involvement in the early phase of ABCD were interviewed. In the ABCD project team, academics, the program manager and regional hub coordinators were interviewed.
Analysis of data proceeded in several related stages. The first stage involved the compilation of the service participation data and thematic analysis of the hub coordinator data. This produced a summary of progress across all sites and a list of key barriers and facilitators to uptake and ongoing participation. These were then aggregated to the regional/state level for comparison. Interview data were analysed individually according to the key themes identified in the Greenhalgh domains. We then drew on the relevant data sources to develop a more in-depth narrative account of the factors, both facilitators and barriers, to uptake and establishment of the CQI cycle in two sites. We further developed these by comparing between sites and then sought to identify the common core underlying drivers and impediments. We present our results as interpretive accounts in which we have aimed to synthesise and highlight the commonalities and differences between sites, rather than as directly comparable units of analysis, as this is clearly not possible given the diversity of contexts, organizational arrangements, and other factors that influence interactions.
Results
Discussion
While the literature is punctuated with inconsistencies in the use of terms like 'adoption', 'uptake', 'spread', 'diffusion', and 'dissemination' [
2
,
34
], our primary concern was with the practices and processes through which self-selecting organisations were motivated to take up and able to support the establishment into services of ABCD tools and processes. In the context of large organisations that manage a number of health services within a region or regions, this was not a discrete decision or event but a complex process that involved engaging multiple players within a web of relationships and processes that had to be negotiated and defined. We found that the process was messy and non-linear, it happened in fits and starts over an extended period-sometimes more than a year. The process was often characterised by conflicts and tensions. It had more in common with the messy model of assimilation described by Van de Ven [
29
] in which organisations 'moved back and forth between initiation, development, and implementation variously punctuated by shocks, setbacks, and surprises' than with the earlier stage based approaches that emphasised knowledge awareness, evaluation-choice, and adoption-implementation, such as described by Meyer and Goe [
19
]. Much of what we witnessed pointed to a process of change that was iterative, and reactive involving interactions between features of the environment, the service, the quality improvement process, and the stakeholders. Our findings suggest that despite initial and widespread enthusiasm for the ABCD model of quality improvement, the mixed successes of uptake and diffusion into services during the first cycle were associated with the ways in which these factors interacted in particular organisations to produce a set of circumstances that either inhibited or enabled the process of change. Organisations had different levels of capacity to mobilize resources that could shift the balance toward supporting implementation.
Many features of the Indigenous primary health care service environment would seem to mitigate against the successful uptake of innovations like ABCD. High among these was the turnover and shortage of staff in many Indigenous primary health care services, and in remote areas the additional problems of geographic isolation, poverty, and burden of illness and disease within communities is an added dimension that is unparalleled in other parts of Australia. In the service context these problems have multiple effects, not only on demand for services but also on staff morale, recruitment, retention, and workforce arrangements, many of which are beyond the capacity of individual services to directly address. While staff turnover did not appear to impede motivation for uptake, it constrained, and at times disrupted, the speed and depth with which incorporation into services could proceed. This pointed to a need for organisations to respond to quality improvement as complex system issues that have to be addressed at multiple levels of the service system.
In most cases, the fact that the many difficulties did not disrupt the establishment of ABCD quality improvement processes during the first year was testament to the motivation of individuals to embrace change that they perceived as advantageous, and the readiness of organisations for improvement activities. It was also related to the alignment of ABCD program objectives for quality improvement with those in the service sector and broader policy environment, and the compatibility and fit of the tools and processes with existing incentive and regulatory frameworks and service systems. The necessary skills, information infrastructure, and resources that were needed to support ABCD were available in the sector but were differentially distributed between organisations, and there was finite capacity in the project team to provide support, training, and facilitation to assist with implementation of the cycle. Over time, as the tools were put to use, the service landscape changed and the relationships that supported this fit began to shift, new difficulties emerged that had to be addressed through an ongoing process of negotiation and adaptation (see Figure
2
).
×
At the organisational level, capacity to influence and mediate the impact of these many factors on uptake appeared to be related to the adopted approach to change, the quality of leadership, and the extent of network connections. In this early period, the primary organisational tasks had much in common with any change management process which, as Leatherman [
35
] reminds us with respect to CQI, is dependent on establishing 'clarity of intent, shared goals, explicit definition of resource requirements, and stability of purpose.' Organisational leaders, usually senior managers, played a critical role in achieving these conditions, and in general they worked across multiple levels of their organization and in the broader system to influence opinion and promote uptake. There were other types of leaders also: those who championed the project amongst their professional peers and those who brought credible evidence of the effectiveness of the project. There was an academic champion, a clinical GP champion, and Indigenous champions, each of whom was involved in the project management as well as in different capacities within the project or one of its participating organisations. While leaders are known to play distinct roles, and their influence operates in different ways and through different channels [
16
], they all had a vision for ABCD, and they engaged in dialogue with others to promote it. This enhanced capacity for understanding, and contributed to building a shared picture of how ABCD would contribute to organizational, professional, or community objectives. It helped people to clarify their role and function. This process has been described by Weik [
36
] as the process of sense-making, a phenomenon that involves a capacity for 'structuring the unknown' and interacting with others in the pursuit of developing a shared meaning. According to agency theory this has distinct dimensions: imagining a future through re-evaluating the past and taking action in the present [
37
]. This implies that successful leadership is at least based on extensive knowledge and experience, and involves creativity and situational judgement. Leaders told stories about how ABCD could work and, based on their experience, knowledge, and status, they brought credibility and conferred legitimacy to the processes. This gave people confidence and authority to proceed. This kind of leadership was evident in pockets in different parts of the system, and the extent to which organisations could benefit from this was related to the external linkages they had with others. In this respect, the ABCD team played an important role in connecting stakeholders so that these kinds of resources could be mobilized. Leadership in itself however, was insufficient for achieving uptake. New practices and routines also had to be taken up and embedded into service systems. The extent to which organisations could do this was, in part, dependent on the internal processes they set up to support it.
Establishing quality improvement processes required services to engage in new forms of dialogue and interaction. Internal linkages were required to support this. Where organisations established or expanded high-level committee structures to incorporate oversight of ABCD and involved staff from different levels of the system, including clinical managers and those with coordination roles or responsibilities for implementation, there was greater opportunity for dialogue and broader scope for creating meaning, identifying problems and opportunities, and addressing them as they arose. Information flows were increased, service routines could be identified for adaptation, and data from services could come for review and debate. This invested it with meaning and increased the possibility that services would get a response to their data, and that organization-wide strategies could be adopted to support and address features of the broader service environment that impacted on services. It also increased accountability. In some cases, no formal linkages were created to support ABCD information flows between the central agency and the services, and this impeded the development of a dynamic and interactive process that could address the many challenges.
Greenhalgh framework
We found that the Greenhalgh diffusion of innovation framework provided a useful starting point for investigating the many practices and processes that operate at multiple levels of the health system to impede and enhance change processes. It neatly maps the complex terrain across which the kinds of attributes, activities, processes, and practices that have been associated with uptake of innovation can be found. However, the framework is an 'aide memoir' and not a theory of implementation, which we found was essential for explaining the complex interactions of the tools and processes with the individual and team practices, organisational structures, and broader system context that we observed. In this regard, the framework is more descriptive than explanatory, with a focus on the components of a change process rather than mechanisms that might explain change or lack of change in different settings. This had several important limitations for our research.
First, we suggest that embedded in the framework are assumptions of a sequential process of change that is seen to operate from the conception of an idea through to its development, diffusion, adoption, and implementation. Our findings did not always confirm this kind of process. Change was often reactive, contested, and not always predictable. Embarking on a process of adopting ABCD revealed new ways of seeing strengths, weaknesses, and possibilities, and the starting points for engineering change differed between settings. It took people time to develop understanding and make meaning out of what was needed to create change, and this happened in an iterative way. Services were responsive and could therefore be engaged simultaneously in different aspects of addressing what is defined in the framework as attributes of 'system readiness' and 'implementation', and efforts could be derailed suddenly by changes in leadership, staff, problems in the community, or other internal or external events. The presence of a regional approach, a transformational leadership style, a problem-solving approach, good relationships, internal avenues for communication, and external linkages seemed to increase the possibility that organisations could respond to challenges and succeed in keeping an approach to uptake in place. Change was therefore more dynamic and less ordered than the framework implies. Elucidating the nature of these interactions and the more fundamental characteristics of human practice that allowed organisations in different states of 'readiness' to cope with the conflicts and transitions that inevitably occurred will be important for further understanding the critical mechanisms at play.
Second, the outer context section of the framework is underdeveloped and not sufficiently defined to take account of the nature and complexity of the dynamic interactions between these elements and their interaction with those in the 'user system'. We observed that the 'socio-political context' shaped the responses of different organisations to implementation in different ways, and had differential impacts at different points in the process. Instability in the workforce, for example, did not appear to affect motivation and interest in taking up ABCD, but it certainly inhibited internal service capacity to complete the cycles at a later time. Similarly, the tasks associated with taking up a CQI process may be similar for government and community controlled organisations alike, but the processes required to support and legitimate them internally are different and may set an organisation on a different pathway to implementation. We also observed that different professional groups have different levels of power to shape the uptake process, and attempts to engage them are arguably fashioned in ways that take account of that power and subsequently privilege some negotiations over others. Further development of the framework to incorporate this dimension may lead to a better understanding of the different drivers for uptake, and help organisations seeking to spread innovations determine the best ways to adapt their processes to achieve better engagement and uptake.
Summary
Uptake of CQI is a complex process that involves engaging multiple stakeholders in new relationships that can support services to construct shared meaning and purpose, operationalise key concepts and tools, and develop and embed new practices into service systems and routines. Some clear messages for health authorities interested in implementing quality improvement systems emerge from this study. First, promoting quality improvement requires a system approach and organization-wide commitment. At the organization level, a formal high-level mandate, leadership at all levels, and resources to support implementation are needed. Leadership is critical to success and strategies for training and mentoring leaders are needed. Opportunities for engaging and developing clinical, Indigenous, and academic leaders and champions should be a priority to help communities and services develop a vision for quality improvement. Regional level facilitators are also needed to support services to implement the quality cycle and at the clinic level, leadership is essential to ensure that new practices and ways of working are embedded into service routines. At the broader system level, governance arrangements that can fulfil a number of policy objectives in relation to articulating the linkages between CQI and other aspects of the regulatory, financing, and performance frameworks within the health system would help define a role and vision for quality improvement. This would need to determine the parameters for data use, ownership, control, and reporting to third parties. Ongoing alignment of policies and incentives related to quality improvement and performance reporting will be critical.
Acknowledgements
This study forms part of the PhD thesis undertaken by the first author (KG), who is supported by an Australian Postgraduate Award. The authors would like to acknowledge the many participating services who provided their service data for analysis, and to the stakeholders and members of the ABCD team with whom we conducted interviews, and in some cases, extensive discussions over the period of the project. The ABCD project is supported by a grant from the National Health and Medical Research Council.
This article is published under license to BioMed Central Ltd. This is an Open Access article distributed under the terms of the Creative Commons Attribution License (
http://​creativecommons.​org/​licenses/​by/​2.​0
), which permits unrestricted use, distribution, and reproduction in any medium, provided the original work is properly cited.
Competing interests
The authors declare that they have no competing interests.
Authors' contributions
KG developed the original idea for the paper, conducted the interviews, analysed interview data and data on uptake and cycle completion, and wrote the early draft. MD and RB contributed ideas, assisted with several key interviews, and provided comments on the draft. ST provided comments on the draft and prepared the diagrams. All authors read and approved the final manuscript.