01.12.2018 | Original investigation | Ausgabe 1/2018 Open Access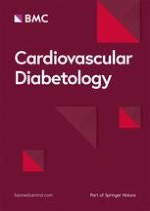 Undetected dysglycaemia common in primary care patients treated for hypertension and/or dyslipidaemia: on the need for a screening strategy in clinical practice. A report from EUROASPIRE IV a registry from the EuroObservational Research Programme of the European Society of Cardiology
Zeitschrift:
Autoren:

Bahira Shahim, Viveca Gyberg, Dirk De Bacquer, Kornelia Kotseva, Guy De Backer, Oliver Schnell, Jaakko Tuomilehto, David Wood, Lars Rydén
Abstract
Background
Dysglycaemia defined as type 2 diabetes (T2DM) and impaired glucose tolerance (IGT), increases the risk of cardiovascular disease (CVD). The negative impact is more apparent in the presence of hypertension and/or dyslipidaemia. Thus, it seems reasonable to screen for dysglycaemia in patients treated for hypertension and/or dyslipidaemia. A simple screening algorithm would enhance the adoption of such strategy in clinical practice.
Objectives
To test the hypotheses (1) that dysglycaemia is common in patients with hypertension and/or dyslipidaemia and (2) that initial screening with the Finnish Diabetes Risk Score (FINDRISC) will decrease the need for laboratory based tests.
Methods
2395 patients (age 18–80 years) without (i) a history of CVD or TDM2, (ii) prescribed blood pressure and/or lipid lowering drugs answered the FINDRISC questionnaire and had an oral glucose tolerance test (OGTT) and HbA1c measured.
Results
According to the OGTT 934 (39%) had previously undetected dysglycaemia (T2DM 19%, IGT 20%). Of patients, who according to FINDRISC had a low, moderate or slightly elevated risk 20, 34 and 41% and of those in the high and very high-risk category 49 and 71% had IGT or T2DM respectively. The OGTT identified 92% of patients with T2DM, FPG + HbA1c 90%, FPG 80%, 2hPG 29% and HbA1c 22%.
Conclusions
(1) The prevalence of dysglycaemia was high in patients treated for hypertension and/or dyslipidaemia. (2) Due to the high proportion of dysglycaemia in patients with low to moderate FINDRISC risk scores its initial use did not decrease the need for subsequent glucose tests. (3) FPG was the best test for detecting T2DM. Its isolated use is limited by the inability to disclose IGT. A pragmatic strategy, decreasing the demand for an OGTT, would be to screen all patients with FPG followed by OGTT in patients with IFG.