01.12.2006 | Review | Ausgabe 1/2006 Open Access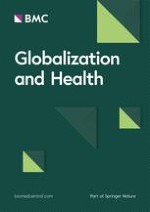 Uneven dietary development: linking the policies and processes of globalization with the nutrition transition, obesity and diet-related chronic diseases
Zeitschrift:
Autor:

Corinna Hawkes
Wichtige Hinweise
Electronic supplementary material
The online version of this article (doi:
10.​1186/​1744-8603-2-4
) contains supplementary material, which is available to authorized users.
Background
In a "nutrition transition", the consumption of foods high in fats and sweeteners is increasing throughout the developing world, while the share of cereals is declining; intake of fruits and vegetables remains inadequate [
1
]. These poor quality diets are associated with rising rates of overweight, obesity and diet-related chronic diseases, like heart disease, diabetes and some cancers. More people now die of heart disease in developing countries than in developed, and the problem is becoming more serious among the poor [
2
]. Low quality diets are also associated with undernutrition in the form of micronutrient deficiency, which, in turn, lowers immunity to infectious diseases. Poor diet quality is thus associated with a dual burden of malnutrition and disease.
The dietary transitions taking place are deeply rooted in the processes of globalization. Globalization is associated with changing incomes and lifestyles. Moreover, by radically altering the nature of agri-food systems, globalization is also altering the quantity, type, cost and desirability of foods available for consumption. As Kennedy, Nantel and Shetty explain, "globalization is having a major impact on food systems around the world...[which] affect availability and access to food through changes to food production, procurement and distribution... in turn bringing about a gradual shift in food culture, with consequent changes in dietary consumption patterns and nutritional status that vary with the socio-economic strata" [
3
]. This latter link, between globalization, food systems, and dietary change, is the subject of this paper.
The links between globalization and diet are generally under-researched, though analysts have suggested the following mechanisms are central to the globalization/diet nexus [
4
–
23
]:
Food trade and global sourcing

Foreign direct investment

Global food advertising and promotions

Retail restructuring (notably the development of supermarkets)

Emergence of global agribusiness and transnational food companies

Development of global rules and institutions that govern the production, trade, distribution and marketing of food

Urbanization

Cultural change and influence
Yet determining the precise relationship between these mechanisms and diet quality is a challenge, as is determining their relative importance to the nutrition transition. Such challenges are a reflection of the complex and multidimensional interactions between global economics and health in general [
24
–
30
]. Different perspectives give rise to an often polarized debate about the relative merits and demerits of globalization for health [
31
]: some say it is mainly good for health [
32
,
33
], others that it is inherently problematic [
34
,
35
]. The reality is, as for any policy choice, that globalization is likely to bring threats and opportunities, improving health in some circumstances and damaging it in others [
27
,
36
,
37
].
The complexity of the interactions and the potential for gains and losses is particularly pertinent to nutrition, given nutritional problems lie along a spectrum from under- to over-nutrition. Processes of globalization operating throughout the food supply chain have different effects on different parts of the spectrum. Such processes may introduce opportunities to address undernutrition by raising incomes and cheapening food, but, in so doing, introduce risks for overnutrition. Alternatively, they may benefit under-and over-nutrition by increasing the diversity of food available for consumption. Or they may damage both by generating inequality and exclusion, making an adequate and healthy supply of food accessible only to the rich.
Comprehending these scenarios and tradeoffs is a central challenge for policy makers in a globalizing world. What will be gained and lost? And who will be the winners and losers? As Labonte [
27
]: points out: "Tracing the impacts of globalization on health to answer such questions can be a daunting task" (p.52). To do so, Labonte stresses the need to understand the mechanisms central to globalization. Equally, he notes it is necessary to examine the global, national, community and household contexts in which these mechanisms are operating. This is important because though the mechanisms are operating globally, their effects are context-dependent: homogenizing processes can have very heterogeneous effects. So the same globalization processes will have different outcomes for people at risk from under-nutrition relative to those at risk from over-nutrition, for urban compared with rural populations, and the poor relative to the rich.
Globalization, in other words, is a dynamic process of both mass global change and local differentiation. In dietary terms, this can be articulated as "dietary convergence" and "dietary adaptation"; each, in a seemingly contradictory unity, are part and parcel of the nutrition transition [
3
]. According to Kennedy, Nantel and Shetty [
3
], dietary convergence is "increased reliance on a narrow base of staple grains, increased consumption of meat and meat products, dairy products, edible oil, salt and sugar, and a lower intake of dietary fibre" (p.9). Indeed, analysis by the Food and Agriculture Organization suggests that diets in countries more integrated into the world economy are converging in terms of primary commodities [
6
]. On the other hand, dietary adaptation is "increased consumption of brand-name processed and store-bought food, an increased number of meals eaten outside the home and consumer behaviours driven by the appeal of new foods available" (p.9). Convergence, the authors argue, is driven mainly by income and price. Adaptation, in contrast, is driven by demands on time, increased exposure to advertising, availability of new foods and emergence of new food retail outlets.
This paper asks if and how the policies implemented to advance the globalization of agri-food systems are linked with the coexistence of the apparently contradictory processes of dietary convergence and adaptation in developing countries. It explores one of the central mechanisms of globalization, the integration of the global marketplace, specifically, the impacts of the three major processes of market integration on dietary patterns. The three processes are: (I)
the production and exchange of goods
in the form of agricultural production and trade; (II)
the flow of investment across borders
in the form of foreign direct investment (FDI) in food processing and retailing; and (III)
the global communication of "information"
in the form of the promotional food marketing. These processes represent important aspects of the food supply chain from production to consumption. For each of the major processes, the paper presents a case study examining the relationship between specific policy changes and dietary transitions in different contexts, focusing on the more negative aspects of dietary change and the implications for the diets of the poor.
I. The production and exchange of goods in an integrated market place: the role of agricultural production and trade in dietary transitions
Global market integration is characterized by a combination of formerly separated markets into a single market. Agriculture is central to this aspect of globalization and the theory of comparative advantage that lies behind it: creating efficiency by locating the production of agricultural goods where there is a comparative advantage in producing them. In a globally integrated agricultural market, the idea is that nations specialize in producing food consistent with their resource endowment, and then trade those foods between themselves. The desired result is greater economic efficiency, a more consistent food supply, lower costs of production and, in theory, cheaper food.
Prior to the era of modern economic globalization, countries tended to favour the protection of domestic agricultural markets, a tendency clearly inconsistent with the economic efficiency envisioned by the theory of comparative advantage. Increasing the market-orientation (i.e. degree of liberalization) of the production and exchange of agricultural goods within and between nations has thus become a critical component of globalization. During the 1970s and '80s, many low- and middle-income countries underwent "structural adjustment," which included implementing more market-oriented agricultural policies. The pace of reform accelerated in the 1990s as many countries liberalized their agricultural markets internally and internationally. Regional trade agreements, signed at a steady but slow pace through 1970s and '80s, soared at a rate of 15 per year in the 1990s [
38
]. And in 1994, agriculture was included in global trade rules for the first time: the Uruguay Round of the General Agreement on Tariffs and Trade (GATT) Agreement on Agriculture pledged countries to reduce tariffs, export subsidies and domestic agricultural support. Food and agricultural trade were also affected by bilateral agreements and new rules on technical barriers to trade. This range of policy shifts over the past 20–30 years has led to a more liberal global agricultural marketplace, although it cannot yet be described as "open" since high levels of protection still exist in various forms.
This liberalizing agricultural market has enabled more and different food trade, higher foreign investment and the enlargement of transnational food companies (TFCs). In developing countries, food import bills as share of GDP more than doubled between 1974 and 2004, and the amount of trade made up of processed agricultural products rose much faster than primary agricultural products [
38
]. More open trade and investment have made buying companies, products and services easier across national borders, so creating incentives for TFCs to grow through global vertical integration and sourcing [
39
]. Global vertical integration – when a company brings together the entire process of producing, distributing and selling a particular food under its control by buying and contracting other companies and services worldwide – reduces the transaction costs associated with having different suppliers and creates economies of scale [
40
]. Global outsourcing – when a company searches for inputs, production sites and outputs where costs are lower and regulatory, political and social regimes favourable – enables TFCs to cut costs and helps safeguard against the uncertainty of commodity production and product sales [
39
].
These changes in the global agri-food system have altered the supply of foods associated with the nutrition transition. Vegetable oils are a case in point. Oil crops have been one of the most dynamic agricultural sectors in recent decades, growing at a rate of 4.1% per year between 1979 to 1999, relative to 2.1% for agriculture as a whole [
6
]. World oil crop production increased by over 60% between 1990 and 2003 (Table
1
), with growth driven by the top three oils: soybean, palm and canola/rape. Growth has been concentrated in Asia and Latin America, not the traditional production zones of North America and western Europe. Between 1994 and 2004, edible oil production in China increased nearly two-fold, soybean oil production in Brazil by one-half and Argentina by two-fold, and palm oil production in Malaysia by two-thirds [
41
]. Similar trends are seen for consumption. During this time frame, vegetable oil consumption in the United States and western Europe increased by just one-quarter, whereas it doubled in China and increased by one-half in India. Overall, between 1982/84 and 2000/02, vegetable oils contributed more than any other food group to the increase of calorie availability worldwide (by 70 Kcal/capita/day) (calculated from [
42
]). Vegetable oils can thus clearly be implicated in rising dietary fat intakes worldwide [
43
]. Increased consumption can be explained in part by rising demand, but also supply side policies, as illustrated by the three largest emerging economies, Brazil, China and India, and the world's largest oil: soybean.
Table 1
World oilcrops primary production (Mt)
| 1980 | 1990 | 1995 | 2000 | 2003 | 2004 |
| --- | --- | --- | --- | --- | --- |
| 49,298,300 | 75,410,698 | 91,857,399 | 110,043,440 | 123,168,460 | 132,726,738 |
Case Study 1: How global market integration of vegetable oil production has facilitated the globalization of consumption: the case of Brazil, China and India
Ii. The flow of investment across borders: the role of foreign direct investment in food processing and retailing in dietary transitions
Case Study 2: How foreign direct investment in the manufacture and retail of processed foods is facilitating the globalization of consumption: the case of Mexico
FDI has fostered much of the growth of processed foods and modern retailing in Mexico, either directly by increasing the size of the market, or indirectly by stimulating competition with domestic firms. The profit-seeking nature of the more open processed foods market has encouraged growth and segmentation. FDI in manufacture and retail has been complementary: the success of the growth and segmentation strategy of the processed foods industry has required the presence of different types of retailers, and is now being delivered over the long-term by the supermarkets. One of the central processes of global market integration, FDI and the policies that encourage it, is thus facilitating dietary convergence towards consumption but also adaptation to dietary niches. If this dynamic continues, the process of convergence could well lead to very divergent dietary outcomes between rich and poor.
Iii. The global communication of "information": the role of food advertising and promotion in dietary transitions
Owing to its visibility, promotional food marketing ("marketing") has become one of the hallmarks of globalization. Coca-Cola signs, ubiquitous in countries around the world, are a classic symbol of what is often assumed to be the homogenous nature of globalization. The intended impact of marketing on food consumption is also quite apparent (a great deal more so than trade or FDI). Marketing explicitly involves designing strategies and implementing activities to influence consumption habits and create demand. It involves not just advertising, but a whole array of methods including sales promotions, websites, viral marketing, music and sports sponsorship, product placement in films and television, and in-school marketing. TFCs, and the advertising and marketing agencies that serve them, use these techniques to encourage more people to consume the product, more frequent consumption among people already familiar with the product, and consumption of more of the product at one time [
90
]. Food advertising and promotion is now a global phenomenon, occurring in even remote parts of the world [
90
]. During the period 1980 to 2004, global advertising expenditure rose from US$216 billion to US$512 billion [
91
]. Promotions for energy-dense, highly-processed foods aggressively target young people, aiming to influence food consumption patterns that will carry into adulthood. In Western countries at least, such advertising has been shown to influence dietary habits among children [
92
,
93
].
Marketing is more than just a visible and tangible form of globalization. It is also, like trade and FDI, a
process of
globalization. Marketing speeds the flow of food products spread by trade and FDI into the global marketplace: In a larger, more dynamic marketplace, companies benefit from rapid product turnover, and marketing speeds up this process. It does this by attracting attention to new products, creating perceived differences between similar products, and improving the apparent value and desirability of products. In so doing, marketing encourages more consumers to consume the products, and more producers to produce them, thus advancing the cycle of global market exchange and integration.
It is a self-reinforcing process: just as marketing facilitates globalization, globalization facilitates marketing. Globalization brought to the developing world the advertising/marketing agencies with the most expertise in designing marketing campaigns. From the 1980s onwards, advertising agencies transnationalized and consolidated through FDI, mergers and acquisitions, growing into huge, vertically integrated global corporations [
94
,
95
]. The process was driven by a range of incentives: the companies which commission the services of marketing agencies were transnationalizing, as were the media networks they utilize; communications technologies were improving; the market for communications services was becoming more open due to some domestic deregulation and trade agreements; and prospects of higher profits and revenue growth were greater overseas [
95
–
97
]. Today, just a handful of communications networks control most of the global market. Though, mainly headquartered in the United States, Europe or Japan, networks and agencies have hundreds of local offices worldwide. An important outcome of this global consolidation was that agencies previously concerned solely with advertising bought in additional expertise in non-media advertising, market research, and communications services. This allowed them to supply to their clients co-ordinated and comprehensive campaigns encompassing a wide range of promotional techniques, from advertising to direct mail, from school-based marketing to sports sponsorship deals [
94
]. Globalization also enabled the spread of technologies that introduce more places to advertise. Television ownership spread rapidly through the developing world during the last decades of the 20
th
century, accompanied in the 1990s by the market liberalization of public television and subsequent increase in commercial programming [
98
]. More recently, technological development further broadened global communication networks, notably through the Internet and phone networks [
97
].
The globalization of food marketing thus comprises three core components: the globalization of TFCs and the foods they promote; the globalization of advertising/marketing agencies; and the globalization of communication technologies. Together, they have increased the power of marketing as an agent of dietary change, as well-illustrated by food marketing in Thailand.
Case Study 3: How global market integration of food marketing has facilitated the globalization of snack consumption: the case of Thailand
Conclusion and policy implications
Policies and institutions in global dietary change
Policies designed to integrate the global food market matter for what people eat
This paper has traced the links from specific policies (or, rather, combinations of policies) in specific countries to specific changes in dietary habits. It has shown how important the policies and processes designed to advance the globalization of the world economy can be in shaping the nature of dietary change. Changing consumer incomes, behaviours and desires are clearly also important; it is when these changes converge with the macro structural forces that dietary shifts take place [
137
]. Policies designed to integrate the global food market – on agriculture, trade, FDI and promotional marketing – have been developed in the economic sphere, yet influence food consumption patterns. They are therefore not just global economic policies, but global food and global health policies.
Transnational food companies affect dietary change directly and indirectly
TFCs are key institutions driving the integration of world food markets. They produce, sell and promote products according to incentives created by policies and economics as well as consumer behaviour. TFCs affect dietary habits
directly
through producing, manufacturing, retailing and promoting different foods eaten in different countries. Public attention has tended to focus on the highly-processed foods manufactured by TFCs – and the example of Mexico shows that these products can be widely consumed. Yet in most countries, many highly-processed foods are still largely consumed by more affluent groups in urban areas [
131
]. Thus at the moment, TFCs are probably playing a more important role in dietary change
indirectly
, by altering the parameters of the domestic food markets. Importantly, they stimulate competition while simultaneously dominating product sectors, which alters the food market as a whole. They also create a cultural identity for different foods and introduce new ways to sell and promote them.
The effect of policies and institutions is mediated by the existing resources, services and technologies available
Existing resources, services and technologies and services have a major influence on the outcomes of global and national economic policies (and, indeed, influence their design). As shown here, policies designed to promote domestic production and global consumption of Brazilian soybean oil were only possible in the context of an abundant and cheap supply of land and reduced transportation costs; policies on FDI into processed foods manufacturing in Mexico paid off well in part because of the existence of traditional forms of retailing; in Thailand, globalized marketing strategies were nationally effective, in large part because of historical patterns of TV ownership.
The convergence-divergence model of dietary change
Globalization influences dietary differentiation as well as convergence
Globalization is often viewed as "coca-colonization" or "McDonaldization" – a homogeneous process with homogeneous outcomes. But this paper has shown that the dynamic, competitive forces unleashed as a result of global market integration produce both convergent and divergent dietary outcomes. All three case studies show how market integration increases the incentive for TFCs to sell cheap and/or standardized food around the world, while
simultaneously
increasing the incentive to create market niches. The creation of similarity and difference is thus part and parcel of the same process – the logical functioning of the global marketplace. In dietary terms, to follow the examples given here, this means that more people eat more soybean oil and processed foods, but
different types
of people eat
different types
of these foods bought from
different types
of stores and (possibly) influenced by
different types
of marketing techniques. This convergence-divergence model unites the apparently contradictory observations that, on the one hand, global market integration homogenises diets and, on the other, brings greater food variety (since it does both). It indicates, too, that the "nutrition transition" model of dietary change – while apt and appropriate in nutritional terms – fails to capture some of the more complex aspects of global dietary change (see also discussion by Lang and Rayner [
138
].
Globalization could be encouraging the uneven development of new dietary habits between rich and poor
It has been argued elsewhere that the increased differentiation brought by globalization promotes better diet quality through increasing access to dietary diversity [
20
]. The same could be said of urbanization. Following this argument, the problem of obesity becomes one of diet quantity (people eating too much of a wide variety of nutritious foods) not quality (people eating a diet dominated by nutrient poor, energy-dense foods).
Yet the convergence-divergence duality raises the policy concern that globalization could be encouraging the uneven development of new dietary habits between rich and poor. As high-income groups in developing countries accrue the benefits of a more dynamic marketplace, lower-income groups may experience convergence towards poor quality obseogenic diets, as has been observed in western countries. People of low socioeconomic status (SES) (albeit not the poorest of the poor) are more likely to be influenced – over the long-term – by the converging trends of the global marketplace: the economic and cultural convergence towards cheap vegetable oils,
trans
-fats, and imitations of heavily promoted products whose desirability has been stimulated by their earlier popularity among wealthier groups. Meanwhile, the more affluent and educated move onto the more expensive, "healthy market" niches such as the
trans
fat free vegetable oils and "diet" foods.
The influence of globalization policies on dietary patterns is context specific
The divergent nature of the dietary outcomes of globalization is also a result of regional, national and local contexts. National socioeconomic bifurcation and the cultural context are particularly important [
27
]. In high-income countries, the prevalence of poor quality diets, obesity and diet-related chronic diseases tends to be higher among groups of lower SES. Unfortunately, this trend is now also beginning to emerge in middle-income countries: a recent review of the evidence concluded that as gross national product (GNP) increases in developing countries, the burden of obesity tends to shift towards groups of lower SES; after countries have crossed over a GNP threshold of about US$2500 per capita, women of low SES tend to have proportionally higher rates of obesity [
139
]. In other words, obesity starts out as a problem among groups of higher SES, but as national economies grow, the risk moves towards groups of lower SES. The explanation for this long-term uneven development of obesity has already been placed in the context of the convergence-divergence duality. But this duality is, of course, feeding off existing socioeconomic inequalities. In his pioneering work in Brazil, Carlos Monteiro shows a strong inverse relationship between obesity and education (not income) in women indicating an important association between education and nutritional knowledge [
140
,
141
]. Poor diets and obesity are emerging in this socio-economic context.
Culture is another important context. In the Brazilian case, a culture of "thinness" exists in more highly-educated groups, no doubt reinforcing the role of education in this particular country context; the opposite is true in other cultures. The cultural context is also important because it affects the degree of acceptability of new products and services introduced through the globalization process. This is particularly relevant for promotional activities. In an apparently contradictory process, the "glocal" marketing strategies adopted by TFCs and domestic firms often deliberately appeal to
existing
cultural viewpoints or traditions in order to
change
cultural norms and rules about what to eat, how, where and how much [
90
,
138
]. This is the true power of marketing and indicates the importance of "cultural transition" in dietary change [
138
].
Between them, the processes of differentiation combined with convergence, the differences between rich and poor, and the role of the socioeconomic and cultural contexts, comprise a "convergence-divergence model" of dietary change, rather than a simple transition.
Policy implications
These conclusions present some clear implications for policies needed to address poor diets, obesity and diet-related chronic diseases. First, policies must take into account the influence of the policies and processes of global market integration on long-term dietary change, and the context in which they operate. Such a process requires looking beyond the health sector as narrowly defined, and entering into debates and policy arenas dealt with by other sectors and disciplines. Second, policies must address, in some way, the behaviour of TFCs, preferably by creating incentives to improve "healthy" market functioning. Third, policies need to focus on the promotion of healthy diets over the long-term among groups of low SES. The concern of this paper has been groups with access to diets sufficient in energy. But diet quality is important for those at risk from undernutrition; policies that focus on diet quality are therefore important for addressing problems across the whole nutritional spectrum.
Acknowledgements
I would particularly like to thank Andy Merrifield for all his contributions and insights. I am also grateful to Stephen McElhinney for his help with the Thai case study. Thanks go to two anonymous reviewers and to Neil Brenner and Marc Cohen, for their comments on earlier versions, and to Todi Mengistu for editorial assistance. The paper was stimulated in part by a presentation given to the National Heart Forum (UK): thanks to Jane Landon and Paul Lincoln for inviting me to give the presentation.