20.01.2017 | Pictorial Review | Ausgabe 2/2017 Open Access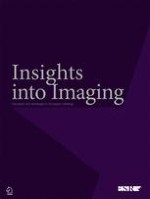 "Unforgettable" – a pictorial essay on anatomy and pathology of the hippocampus
Zeitschrift:
Autoren:

Sven Dekeyzer, Isabelle De Kock, Omid Nikoubashman, Stephanie Vanden Bossche, Ruth Van Eetvelde, Jeroen De Groote, Marjan Acou, Martin Wiesmann, Karel Deblaere, Eric Achten
Abbreviations
DNET
Dysembryoblastic neuroepithelial tumour
IHI
Incomplete hippocampal inversion
HSE
Herpes simplex encephalitis
MTS
Mesial temporal sclerosis
Anatomy, embryology, arterial supply and function
Imaging protocol
The design of the imaging protocol largely depends on the clinical question. Indications that require tailored sequences for optimal visualization of the hippocampus are medically refractory epilepsy and dementia [
4
,
5
].
In patients with medically refractory epilepsy, MRI at 3 T, if available, is preferred, and for the hippocampus, a 1-mm isotropic 3D series with T1W and FLAIR contrast with a good signal-to-noise ratio must be acquired with reconstructions along and perpendicular to the plane of the hippocampi [
6
,
7
]. A tilted coronal T2-weighted (T2W) series should be acquired as well with high resolution (0.5 mm or less in-plane) to evaluate the internal hippocampal structure. If acquisition time is limited, at least coronal IRT1W (1.5 T) or T2W (3 T) images perpendicular to the hippocampal plane should be acquired as extra to a standard screening protocol [
8
]. Contrast administration is only necessary if findings on the non-enhanced series need further investigation [
4
].
For an optimal evaluation of the hippocampi in patients with dementia, a 3D T1W sequence with coronal reconstructions perpendicular to the plane of the hippocampi is recommended. If 3D techniques are unavailable, coronal-oblique 2D T1W images can serve as an alternative [
5
].
Imaging features of anatomic variants and pathologic entities
Conclusion
MRI is the preferred imaging technique to assess hippocampal anatomy and pathology. The main indications for tailored depiction of the hippocampus are mesial temporal sclerosis and dementia. A wide range of pathologic conditions with often similar imaging characteristics can be centred in and around the hippocampus, however, and correlation with clinical data is often necessary to come to a correct diagnosis or formulate a sound differential diagnosis.
Compliance with ethical standards
Statements
Martin Wiesmann has the following disclosures:
• Grants: Stryker Neurovascular. Siemens Healthcare
• Personal fees: Stryker Neurovascular. Silkroad Medical. Siemens Healthcare. Bracco
• Non-financial support: Codman Neurovascular. Covidien. Abbott. St. Jude Medical. Phenox. Penumbra. Microvention/Terumo. B. Braun. Bayer. Acandis. ab medica
The other authors have nothing to disclose.
The article received no grants or funding.
Open Access
This article is distributed under the terms of the Creative Commons Attribution 4.0 International License (http://creativecommons.org/licenses/by/4.0/), which permits unrestricted use, distribution, and reproduction in any medium, provided you give appropriate credit to the original author(s) and the source, provide a link to the Creative Commons license, and indicate if changes were made.