07.01.2019 | Surgical Symposium Contribution | Ausgabe 6/2019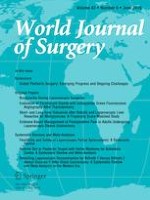 Unifying Children's Surgery and Anesthesia Stakeholders Across Institutions and Clinical Disciplines: Challenges and Solutions from Uganda
Zeitschrift:
Autoren:

Phyllis Kisa, David F. Grabski, Doruk Ozgediz, Margaret Ajiko, Raffaele Aspide, Robert Baird, Gillian Barker, Doreen Birabwa-Male, Geoffrey Blair, Brian Cameron, Maija Cheung, Bruno Cigliano, David Cunningham, Sergio D'Agostino, Damian Duffy, Faye Evans, Tamara N. Fitzgerald, George Galiwango, Domenico Gerolmini, Marcello Gerolmini, Nasser Kakembo, Joyce B. Kambugu, Kokila Lakhoo, Monica Langer, Moses Fisha Muhumuza, Arlene Muzira, Mary T. Nabukenya, Bindi Naik-Mathuria, Doreen Nakku, Jolly Nankunda, Martin Ogwang, Innocent Okello, Norgrove Penny, Eleanor Reimer, Coleen Sabatini, John Sekabira, Martin Situma, Peter Ssenyonga, Janat Tumukunde, Gustavo Villalona
Wichtige Hinweise
Joint first authors: Phyllis Kisa and David F. Grabski.
Publisher's Note
Springer Nature remains neutral with regard to jurisdictional claims in published maps and institutional affiliations.
Abstract
Background
There is a significant unmet need for children's surgical care in low- and middle-income countries (LMICs). Multidisciplinary collaboration is required to advance the surgical and anesthesia care of children's surgical conditions such as congenital conditions, cancer and injuries. Nonetheless, there are limited examples of this process from LMICs. We describe the development and 3-year outcomes following a 2015 stakeholders' meeting in Uganda to catalyze multidisciplinary and multi-institutional collaboration.
Methods
The stakeholders' meeting was a daylong conference held in Kampala with local, regional and international collaborators in attendance. Multiple clinical specialties including surgical subspecialists, pediatric anesthesia, perioperative nursing, pediatric oncology and neonatology were represented. Key thematic areas including infrastructure, training and workforce retention, service delivery, and research and advocacy were addressed, and short-term objectives were agreed upon. We reported the 3-year outcomes following the meeting by thematic area.
Results
The Pediatric Surgical Foundation was developed following the meeting to formalize coordination between institutions. Through international collaborations, operating room capacity has increased. A pediatric general surgery fellowship has expanded at Mulago and Mbarara hospitals supplemented by an international fellowship in multiple disciplines. Coordinated outreach camps have continued to assist with training and service delivery in rural regional hospitals.
Conclusion
Collaborations between disciplines, both within LMICs and with international partners, are required to advance children's surgery. The unification of stakeholders across clinical disciplines and institutional partnerships can facilitate increased children's surgical capacity. Such a process may prove useful in other LMICs with a wide range of children's surgery stakeholders.