01.12.2018 | Research article | Ausgabe 1/2018 Open Access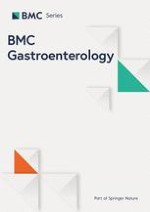 Uninvestigated dyspepsia and associated factors of patients with gastrointestinal disorders in Dessie Referral Hospital, Northeast Ethiopia
Zeitschrift:
Autoren:

Abdurahaman Seid, Zemenu Tamir, Wondmagegn Demsiss
Abstract
Background
Dyspepsia is a common problem in the community and clinical practice with symptom(s) considered arising from the gastroduodenal region. Dyspepsia burden and associated factors vary from country to country. The aim of this study was to determine the prevalence of uninvestigated dyspepsia (UD) using Rome III criteria, associated risk factors and self-reported dyspepsia symptoms' correlation with
H. pylori
infection.
Methods
A cross-sectional study was conducted among randomly selected 318 out patients with gastrointestinal complaints during the period from September 1 to December 30, 2015. All patients completed a questionnaire for collecting data regarding sociodemographic, lifestyle and functional gastrointestinal disorders. Diagnosis of dyspepsia was made according to the Rome III criteria.
H. pylori
infection was assessed using stool antigen test. SPSS version 20.0 statistical software package was used for data analysis.
Results
From a total of 318 patients, 48.4% had UD according to Rome III criteria; with 42.1% symptoms of epigastric pain/burning, 26.1% postprandial fullness and 22.6% early satiation. Epigastric pain/burning (AOR = 1.92, 95% CI 1.07–3.43), early satiation (AOR = 2.68, 95% CI 1.38–5.20) and belching (AOR = 4.7, 95% CI 1.54–14.40) were significantly correlated with
H. pylori
infection.
H. pylori
infection (AOR = 4.33, 95% CI 2.41–7.76) and aspirin/NSAIDs consumption (AOR = 5.29, 95% CI 2.82–9.93) were independent risk factors for UD. However, consumption of raw fruits/ vegetables at least once a week (AOR = 0.48, 95% CI 0.24–0.98) and taking two or more cups of tea a day (AOR = 0.339, 95% CI 0.17–0.70) were inversely associated with UD.
Conclusions
UD is highly prevalent among adults with gastrointestinal complaints.
H. pylori
infection is significantly associated with UD and correlates with its symptoms. Individuals with epigastric pain/burning, early satiation and belching should be primary focus of
H. pylori
infection diagnosis and treatment. The role of consumption of tea, raw fruits and vegetables on dyspepsia needs further large scale study.