01.03.2018 | Melanomas | Ausgabe 5/2018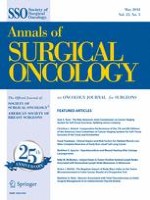 Unique Genes in Tumor-Positive Sentinel Lymph Nodes Associated with Nonsentinel Lymph Node Metastases in Melanoma
Zeitschrift:
Autoren:

MD, MPH Michael E. Egger, MD Deyi Xiao, MD, PhD Hongying Hao, MD, MPH Charles W. Kimbrough, PhD Jianmin Pan, PhD Shesh N. Rai, PhD Alexander C. Cambon, MS Sabine J. Waigel, PhD Wolfgang Zacharias, MD, PhD Kelly M. McMasters
Wichtige Hinweise
Electronic supplementary material
Previously presented, in part, at the 2013 Society of Surgical Oncology Annual Cancer Symposium.
Abstract
Background
Current risk assessment tools to estimate the risk of nonsentinel lymph node metastases after completion lymphadenectomy for a positive sentinel lymph node (SLN) biopsy in cutaneous melanoma are based on clinical and pathologic factors. We identified a novel genetic signature that can predict non-SLN metastases in patients with cutaneous melanoma staged with a SLN biopsy.
Methods
RNA was collected for tumor-positive SLNs in patients staged by SLN biopsy for cutaneous melanoma. All patients with a tumor-positive SLN biopsy underwent completion lymphadenectomy. A 1:10 case:control series of positive and negative non-SLN patients was analyzed by microarray and quantitative RT-PCR. Candidate differentially expressed genes were validated in a 1:3 case:control separate cohort of positive and negative non-SLN patients.
Results
The 1:10 case:control discovery set consisted of 7 positive non-SLN cases matched to 70 negative non-SLN controls. The cases and controls were similar with regards to important clinicopathologic factors, such as gender, primary tumor site, age, ulceration, and thickness. Microarray and RT-PCR identified six potential differentially expressed genes for validation. In the 40-patient separate validation set, 10 positive non-SLN patients were matched to 30 negative non-SLN controls based on gender, ulceration, age, and thickness. Five of the six genes were differentially expressed. The five gene panel identified patients at low (7.1%) and high risk (66.7%) for non-SLN metastases.
Conclusions
A novel, non-SLN gene score based on differential expressed genes in a tumor-positive SLN can identify patients at high and low risk for non-SLN metastases.