29.04.2017 | Family Planning (A Burke, Section Editor) | Ausgabe 2/2017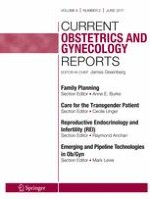 Unscheduled Bleeding on Hormonal Contraceptives: Pathophysiology, Evaluation, and Management Options
Zeitschrift:
Autoren:

Shandhini Raidoo, Bliss Kaneshiro
Wichtige Hinweise
This article is part of the topical collection on
Family Planning
Abstract
Purpose of Review
Unscheduled bleeding is a common side effect of hormonal contraception and is a common reason for method discontinuation. This review summarizes the pathophysiology, evaluation, and current evidence-based management recommendations for the unscheduled bleeding that can occur with hormonal contraception use.
Recent Findings
Prior to initiation of a hormonal contraceptive method, detailed structured counseling about the likelihood of unscheduled bleeding and its likely improvement with continued use is an important component of method continuation and patient satisfaction. For unscheduled bleeding that is persistent and bothersome, non-steroidal anti-inflammatory drugs (NSAIDs) and estrogen alone or estrogen and progestin in combined oral contraceptive (COC) are commonly used for management. The antibiotic doxycycline is somewhat effective at reducing unscheduled bleeding in users of combined hormonal contraceptive methods and progestin implants. Small randomized controlled trials of mifepristone, an antiprogestin, and tranexamic acid, an antifibrinolytic, demonstrated a decrease in unscheduled bleeding in users of depot medroxyprogesterone acetate (DMPA), progestin implants, and levonorgestrel intrauterine devices (IUDs). Tamoxifen, a selective estrogen receptor modulator (SERM), in progestin implant users reduces unscheduled bleeding. Ulipristal acetate, a selective progesterone receptor modulator (SPRM), is not effective at reducing unscheduled bleeding in levonorgestrel IUD users and may result in an increase in bleeding.
Summary
Expectant management is a mainstay of treatment of unscheduled bleeding that occurs as a result of hormonal contraceptive use. NSAIDs and COCs are commonly used for treatment. Small randomized controlled trials of other methods have demonstrated some effectiveness, although evidence is limited.