01.12.2011 | Case report | Ausgabe 1/2011 Open Access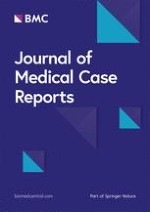 Unusual cardiovascular complications of brucellosis presenting in two men: two case reports and a review of the literature
Zeitschrift:
Autoren:

Nikolaos K Gatselis, Konstantinos P Makaritsis, Ioannis Gabranis, Aggelos Stefos, Konstantinos Karanikas, George N Dalekos
Wichtige Hinweise
Competing interests
The authors declare that they have no competing interests.
Authors' contributions
GND and NKG had the original idea, and along with KPM wrote the first draft of the paper. GND, KPM and NKG investigated, treated and monitored the first patient, and IG and KK investigated, treated and monitored the second patient. NKG, AS and KPM collected all data from both patients and performed the literature search. IG and KK contributed to the final version of the paper, and GND, AS and NKG were major contributors to the final revised version of the manuscript. All authors read and approved the final manuscript.
Abstract
Introduction
Brucellosis is a zoonosis with worldwide distribution, which is particularly endemic in many countries of the Mediterranean basin. Cardiovascular complications of this disease, such as endocarditis, myocarditis and pericarditis, are very rare, with even fewer cases of myocarditis or asymptomatic pericardial effusion in the absence of concomitant endocarditis being reported.
Case presentation
We report two cases of brucellosis in two Caucasian men, aged 17 and 34 years old, with myocarditis and asymptomatic pericardial effusion, respectively. Of note, neither patient had concomitant endocarditis. The disease was confirmed serologically and by blood cultures. Both patients recovered completely after receiving appropriate antibiotic treatment without any sign of relapse during a follow-up of 12 months.
Conclusion
These two cases emphasize that in endemic areas
Brucella
can be considered as a potentially causative agent of idiopathic pericardial effusion or myocarditis, even in the absence of concomitant endocarditis. This possibility could be taken into account particularly in cases where contraction of brucellosis is possible, such as occupational exposure or consumption of unpasteurized dairy products.