08.05.2017 | Original Paper | Ausgabe 1/2018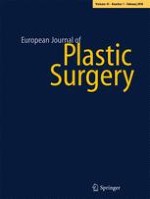 Unusual cases of necrotizing fasciitis: a clinical experience from Turkey
Zeitschrift:
Autoren:

Emin Kapi, Zeynep Deniz Akdeniz Dogan, Tamer Seyhan, Nihal Kilinc
Wichtige Hinweise
Presented at the 9th Congress of the Balkan Association of Plastic, Reconstructive and Aesthetic Surgery (BAPRAS), 17–20.09.2015, Thessaloniki, Greece
Abstract
Background
Necrotizing fasciitis is a rare, destructive soft tissue infection which starts on the skin and subcutaneous tissue, and spreads quickly towards the deeper tissues. Its etiology includes trauma, surgical intervention, perineal abscess, soft tissue infection, minor invasive procedures, abrasion, contusion, burn, laceration, bite, and penetrating injuries. The mortality of the disease can increase in the presence of predisposing factors such as diabetes, hypertension, immunodeficiency, self-care insufficiency, alcoholism, and advanced age. The clinical presentation of necrotizing fasciitis may vary. It is often observed in the abdominal region, the lower extremity, the perineal, perianal, scrotal and genital regions.
Methods
Between December 2011 and September 2016, a retrospective study of all patients admitted due to necrotic wounds and/or tissue defects was undertaken. Their clinical records were reviewed with respect to age, sex, associated morbidities, defect localization, treatment, and outcomes.
Results
Thirteen cases were admitted to the emergency department. There were 10 female and 3 male patients. The defects were located in the gluteal (one), trochanteric (one), thoracic (two), upper extremity (three), lower extremity (two) and perineal region (four). Pressure sores, insect bites, trauma, diabetes mellitus and perineal infections were detected in the etiology of the cases. As observed in our study, NF can present with very different etiological, demographical and clinical findings.
Conclusions
The cases presented some rarely observed characteristics in terms of age, sex, etiology, and infection localization. Therefore, it should be kept in mind that necrotizing fasciitis can exhibit extraordinary characteristics causing confusion with other soft tissue infections, and a detailed and meticulous evaluation must be performed for diagnosis.
Level of Evidence: Level IV, therapeutic study.