01.12.2018 | Research article | Ausgabe 1/2018 Open Access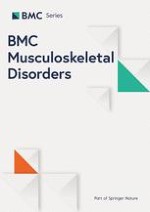 Up-regulated expression of E2F2 is necessary for p16INK4a-induced cartilage injury
Zeitschrift:
Autoren:

Xinnan Bao, Xinyu Hu
Abstract
Background
Cartilage degradation would result in osteoarthritis (OA). p16INK4awas found in some age-related diseases. In this study, we aimed to determine the role of p16INK4a during OA and to investigate the underlying mechanisms.
Methods
Enzyme-linked immunosorbent assay (ELISA) was performed to test the activity of senescence-associated secretory phenotype (SASP). Real-time PCR (RT-PCR) and Western blot were used to determine the expressions of target genes.
Results
The increased expressions of p16INK4a and E2F2 were accompanied with cartilage degradation induced by IL-1β. Over-expression of p16INK4a enhanced the secretion of SASP markers (TGFβ, IL-6, IL-8, IL-1α, MMP3 and MMP13), reduced the expression of type II procollagen (COL2A1).Thus, the over-expression of p16INK4a lead to cartilage injury. Moreover, we found that the expression of E2F2 was enhanced in p16INK4a over-expression group, and that cartilage injury caused by p16INK4a was alleviated by depleting E2F2.
Conclusions
p16INK4a was up-regulated during the cartilage injury in OA. p16INK4a promoted cartilage injury by increasing the expression of E2F2. Thus, this study extends the molecular regulation network for understanding pathological progression of OA, and provides potential therapeutic target for OA.