01.12.2017 | Research | Ausgabe 1/2017 Open Access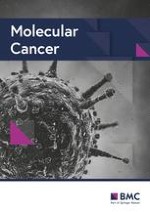 Up-regulated NRIP2 in colorectal cancer initiating cells modulates the Wnt pathway by targeting RORβ
Zeitschrift:
Autoren:

Zhenzhen Wen, Tianhui Pan, Saisai Yang, Jingwen Liu, Haiying Tao, Yiming Zhao, Dingting Xu, Wei Shao, Jia Wu, Xiyong Liu, Yongjiang Wang, Jianshan Mao, Yongliang Zhu
Wichtige Hinweise
Electronic supplementary material
The online version of this article (doi:
10.​1186/​s12943-017-0590-2
) contains supplementary material, which is available to authorized users.
Abstract
Background
Colorectal cancer remains one of the most common malignant tumors worldwide. Colorectal cancer initiating cells (CCICs) are a small subpopulation responsible for malignant behaviors of colorectal cancer. Aberrant activation of the Wnt pathways regulates the self-renewal of CCIC. However, the underlying mechanism(s) remain poorly understood.
Methods
Via retroviral library screening, we identified Nuclear Receptor-Interacting Protein 2 (NRIP2) as a novel interactor of the Wnt pathway from enriched colorectal cancer colosphere cells. The expression levels of NRIP2 and retinoic acid-related orphan receptor β (RORβ) were further examined by FISH, qRT-PCR, IHC and Western blot. NRIP2 overexpressed and knockdown colorectal cancer cells were produced to study the role of NRIP2 in Wnt pathway. We also verified the binding between NRIP2 and RORβ and investigated the effect of RORβ on CCICs both in vitro and in vivo. Genechip-scanning speculated downstream target HBP1. Western blot, ChIP and luciferase reporter were carried to investigate the interaction between NRIP2, RORβ, and HBP1.
Results
NRIP2
was significantly up-regulated in CCICs from both cell lines and primary colorectal cancer tissues. Reinforced expression of NRIP2 increased Wnt activity, while silencing of
NRIP2
attenuated Wnt activity. The transcription factor RORβ was a key target through which NRIP2 regulated Wnt pathway activity. RORβ was a transcriptional enhancer of inhibitor
HBP1
of the Wnt pathway. NRIP2 prevented RORβ to bind with downstream
HBP1
promoter regions and reduced the transcription of
HBP1
. This, in turn, attenuated the HBP1-dependent inhibition of TCF4-mediated transcription.
Conclusions
NRIP2 is a novel interactor of the Wnt pathway in colorectal cancer initiating cells. interactions between NRIP2, RORβ, and HBP1 mediate a new mechanism for CCIC self-renewal via the Wnt activity.