01.01.2012 | Original Paper | Ausgabe 1/2012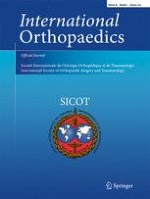 Up-regulation expressions of lysyl oxidase family in Anterior Cruciate Ligament and Medial Collateral Ligament fibroblasts induced by Transforming Growth Factor-Beta 1
Zeitschrift:
Autoren:

Jing Xie, Jiahuan Jiang, Yanjun Zhang, ChunMing Xu, Lin Yin, Chunli Wang, Peter C. Y. Chen, K. L. Paul Sung
Abstract
Purpose
The lysyl oxidase (LOX) family plays a crucial role in the formation and stabilisation of extracellular matrix (ECM) by catalysing the cross-linking of collagen and elastin, implicating its important fundamental roles in injury healing. A high level of transforming growth factor-β1 (TGF-β1) accompanies the inflammatory phase of an injury of the knee joint. Our purpose was to detect the expressions of the LOX family in anterior cruciate ligament (ACL) and medial collateral ligament (MCL) response to TGF-β1.
Methods
This study used reversed transcript PCR, real time quantitative PCR and Western blot for analyses.
Results
The results showed significant increases in mRNA levels of LOX family members. At 5 ng/ml concentration of TGF-β1, the gene profiles of LOXs showed most active, and LOX and LOXL-3 showed increasing peaks at 12 hours after TGF-β1 treatment (LOX: 7.2, 8.8-fold and LOXL-3: 3.8, 5.4-fold compared with normal controls in ACL and MCL, respectively); LOXL-1, LOXL-2 and LOXL-4 reached their highest amounts at six hours (LOXL-1: 1.9, 2.4-fold; LOXL-2: 14.8, 16.2-fold; LOXL-4: 2.5, 4.4-fold in ACL and MCL, respectively). Protein assays revealed that LOXs in ACL cells had relatively lower response to TGF-β1 compared with those in MCL cells.
Conclusions
The differential expression and activities of LOXs might help to explain the intrinsic difference between ACL and MCL, and LOXs could imply a potential capability for ACL healing.