01.12.2017 | Research article | Ausgabe 1/2017 Open Access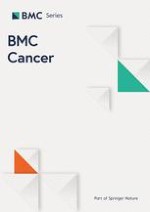 Up-regulation of miR-146a increases the sensitivity of non-small cell lung cancer to DDP by downregulating cyclin J
Zeitschrift:
Autoren:

Lin Shi, Zhaozhong Xu, Gang Wu, Xiaoting Chen, Yuanyuan Huang, Yanjing Wang, Weiqiang Jiang, Bin Ke
Abbreviations
ABCB1
ABC transporter subfamily B member 1
ABCC1
ABC transporter subfamily C member 1
DDP
cis-diamminedichloroplatinum
LRP
Lung resistance-related protein
NSCLC
Non-small cell lung cancer
RT-qRCR
Real time quantitative PCR
Background
Lung cancer is one of the most common malignant tumors and has one of the highest mortality rats worldwide [
1
], 80–85% of which are non-small cell lung cancer (NSCLC) [
2
]. The cis-diamminedichloroplatinum (II) (cisplatin, cDDP, DDP)-based chemotherapy is the common first-line therapy for clinical treatment of various malignant tumor, including lung cancer for more than 40 years [
3
–
5
]. Unfortunately, its efficacy is often limited due to the development of resistance to DDP-based therapy [
2
,
6
]. Although more and more studies have described the resistance to DDP in NSCLC, the underlying mechanisms are not fully elucidated at present [
7
–
10
]. Therefore, a better understanding of these mechanisms of DDP resistance in NSCLC will aid the clinicians to improve NSCLC treatment and develop new targets for tumor chemoresistance.
MicroRNAs (miRs) are a superfamily of small non-coding RNAs with single-stranded 19–25 nucleotides, which could bind to the 3′-untranslated region (3′-UTR) of their targeted genes, resulting in mRNAs cleavage and/or translational repression [
11
,
12
]. Functionally, miRs have been widely involved in the regulation of various biological processes, including embryonic development, cell cycle, differentiation, proliferation, migration, and apoptosis [
13
–
15
]. In addition, increasing studies have shown that dysregulation of miRNAs are associated with the chemoresistance in the initiation and progression of cancers [
16
–
30
]. Recently, miR-146a has been demonstrated to be up-regulated in various cancers, such as cervical cancer [
31
] and thyroid cancer [
32
,
33
]. Moreover, miR-146a levels have therapeutic potential to suppress invasion and migration capacity in breast cancer [
34
] and pancreatic cancer [
35
]. However, there have been no published data regarding the roles of miR-146a in drug resistance of NSCLC cells.
In this study, we aimed to investigate the role of miR-146a in the chemosensitivity of NSCLC cells to DDP by analyzing its function in vitro and vivo. Combined with our previously data that miR-146a were significantly down-regulated in the A549/DDP cells compared with A549 cells (data was not shown), we further found that up-regulation of miR-146a markedly inhibited the migration, invasion and reversed the chemoresistance of NSCLC cells partially through targeting CCNJ. Our findings might provide a new therapeutic strategy for NSCLC patients with acquired resistance to DDP.
Methods
Cell lines and reagents
Human embryonic kidney 293T cells (Cat no. SCSP-502) were obtained from the Cell Bank of Chinese Academy of Science (Shanghai, China) and maintained in DMEM medium containing 10% FBS. A549 and A549/DDP cells were purchased from BioLeaf Biotech (Shanghai, People's Republic of China). SPC-A and SPC-A1/DDP cells were obtained from Department of Molecular Biology and Biochemistry (Nanjing Medical University). A549 and SPC-A1 cells were maintained in RPMI-1640 (Hyclone, Cat no. SH30243.01B) supplemented with 10% FBS (BI, Cat no. 04-001-1A). A549/DDP and SPC-A1/DDP cells were cultured in containing 10% FBS RPMI-1640 supplemented with 1 μg/ml DDP (selleck, Cat no. S7786). All cells were cultured at 37 °C in a humidified incubator containing 5% CO 2. To avoid the effects of the drugs, resistant cell lines were cultured in a drug-free medium for 1 week prior to further experiments.
Construction of A549/DDP and SPC-A1/DDP stable cells clones with miR-146a overexpression
MiR-146a (the full-length pri-miR-146a) were cloned into lenti-miR overexpression plasmid PGC-Lv (Genechem, Cat no. GV235). MiR-146a and control (NC) plasmid were packaged with lenti-packaging plasmid mix (pHelper 1.0, and pHelper 2.0) in a 293T packaging cell line. Viruses were concentrated and purified using ultracentrifugation. Transfection was performed with Lipofectamine 2000 (Invitrogen, Carlsbad, CA) according to the manufacturer's instruction. Stably cells clones were selected with puromycin (1 μg/ml) 48 h after lentiviruses transfection, and individual clone was isolated and maintained in a medium containing puromycin (0.5 μg/ml). The expression of miR-146a was confirmed by real-time quantitative PCR (RT-qPCR).
siRNA and transfection
A small interfering RNA (siRNA) targeting CCNJ (siCCNJ) with the sequences (sense 5′-UGGAUUUGUACCAUUCUUCUGdtdt-3′ and anti-sense 5′-GAAGAAUGGUACAAAUCCAAGdtdt-3′) and non-targeting siRNA (NC) were purchased from RiboBio (Guangzhou, China). For cell transfection, A549/DDP and SPC-A1/DDP cells were transfected with siCCNJ or NC at a final concentration of 50 nM using Lipofectamine 2000 (Invitrogen, Carlsbad, CA) following the manufacturer's instructions. Silencing efficiency of CCNJ was determined at mRNA and protein levels by RT-qPCR and Western blotting, respectively.
CCK-8 assay
The transfected cells were seeded into 96-well culture plates at a density of 5000 cells per well. After culture for 12 h, cells were added serially diluted DDP (0, 2, 4, 6, 8 μg/ml) and incubated for 48 h. A total of 10 μl CCK-8 solution was added to each well after treatment, followed by another 1–2 h incubation. Optical density value at 450 nm (OD 450) was detected using the New Epoch™ 2 Epoch Microplate Spectrophotometer (Biotek, CA, USA). The IC 50 value was calculated by nonlinear regression analysis with GraphPad Prism 5.0 (GraphPad Software Inc., San Diego, CA, USA), using the dose-response with variable slope function.
RT-qPCR assay
Total cellular or tissular RNA was extracted using TRIzol ® reagent (Invitrogen, Cat no.15596-018). Approximately 1 μg of extracted total RNA sample was reverse transcribed into cDNA using PrimeScript™ RT reagent Kit (Takara, Otsu, Japan) following the manufacturer's protocol. Quantification of miRNA or mRNA was performed using Bestar™ qPCR Master Mix (SYBR Green) according to the manufacturer's instructions. RT-qPCR primers used were as follow: miR-146a sense, 5′-GCGAGGTCAAGTCACTAGTGGT-3′ and antisense, 5′-CGAGAAGCTTGCATCACCAGAGAACG-3′; U6 sense, 5′-CTCGCTTCGGCAGCACA-3′ and antisense, 5′-AACGCTTCACGAATTTGCGT-3′; CCNJ sense, 5′-TGTCCGTCAGAACCCATGC-3′ and antisense, 5′-AAAGTCGAAGTTCCATCGCTC-3′; GAPDH sense, 5′-GCACCGTCAAGGCTGAGAAC-3′ and antisense, 5′-TGGTGAAGACGCCAGTGGA-3′. The cycling conditions were as follow: initial denaturation at 95 °C for 60 s, 95 °C for 5 s, 58 °C for 20 s, 40 cycles. Data analysis was performed using the 2 -ΔΔCt method.
Western blot
The cells were harvested and lysed using the mammalian protein extraction reagent RIPA (Beyotime, Beijing, China). Total protein concentration of the lysate was measured by BCA Protein Assay Kit (Pierce Biotechnology, Cat no. 23235). Approximately 50 μg proteins extraction in each lane were separated on 10% SDS-PAGE and transferred onto a PVDF membrane (BioRad, Cat no.162-0177). The membrane was incubated with primary antibodies overnight at 4 °C, followed by incubation of horseradish-peroxidase (HRP) conjugated goat anti-rabbit IgG antibody (Santa Cruz, Cat no. SC-2054; 1:5000 dilution). Signals intensity were measured by the ECL-PLUS/Kit (Amersham, Cat no. RPN2132) following the manufacturer's protocol. The blots were quantified by densitometry using Quantity One software (Bio-Rad, CA, USA). GAPDH antibody was used as an internal control. The primary antibodies were as follow: rabbit anti-CCNJ (Cat. no. ab138561, 1:1000 dilution), P-gp (Cat. no. ab103477, 1:1000 dilution), MRP1 (Cat. no. ab99531, 1:1000 dilution), MVP/LRP (Cat. no. ab97311, 1:1000 dilution), P53 (Cat. no. ab31333, 1:1000 dilution), cleaved caspase-3 (Cat. no. ab2302, 1:200 dilution) were provided by Abcam (MA, USA).
Cell cycle and apoptosis using flow cytometry
For cell cycle analysis, cells were harvested, washed with ice-cold PBS and then fixed with 70% ethanol (v/v) overnight at −20 °C. Fixed cells were washed with ice-cold PBS twice and then resuspended in PBS containing PI (50 μg/ml)/RNase A (50 μg/ml) for 10 min. For cell apoptosis analysis, cells were double stained with Annexin V-FITC (1 μg/ml) and PI (1 μg/ml). Finally, both cell cycle and apoptosis analyzed using a FACScan instrument (Becton Dickinson, Mountain view, CA, US) equipped with CellQuest software (Becton Dickinson, Mountain view, CA, US).
Hoechst staining assay
Cells were cultured in six-well plates for 48 h after transfection and added Hoechst 33342 (1 μg/ml, Sigma, USA) for 10 min. After washed with PBS, the changes in nuclear morphology were observed with fluorescence microscopy.
In vitro transwell assays
The cell motility was assessed by transwell migration chambers (8.0 μm pore size; 6.5 mm diameter, Corning) following manufacture's instruction. For cell migration, approximately 5 × 10 4 transfected cells were seeded into upper chambers in 600 μl serum free medium. For cell invasion assay, 0.2.mg/ml Matrigel TM Basement Membrane Matrix (BD, Cat. no. 356234) was coated the upper chamber. The Matrigel was allowed to solidify at 37 °C overnight. After solidification, 5 × 10 4 transfected cells in serum-free medium were seeded into the upper chamber. The lower transwell chamber contained 10% FBS RPMI-1640 was used as achemoattractant. After cultured for 24 h, the cells were removed from the upper surface and then fixed in 4% paraformaldehyde and finally stained with 0.1% crystal violet solution. For quantification, the migratory cells and invasion cells were counted under a microscope in five random fields. Each experiment was carried out in triplicate and the mean values were presented.
Dual-luciferase reporter assay
A CCNJ-WT (wild type of miR-146a binding site in 3′-UTR of CCNJ) and CCNJ-MUT (miR-146a binding site in 3′-UTR of CCNJ) luciferase reporter was constructed by Genechem (Shanghai, China). Briefly, the wild type and mutated of 3′-UTR sequence of CCNJ predicted to interact with miR-146a were synthesized by Genechem, and cloned into psi-CHECK2 vector (Promega, Madison, WI, USA). The constructs were sequenced and named as CCNJ/3′-UTR-WT or CCNJ/3′-UTR-MUT. For reporter assays, 0.05 μg firefly luciferase reporter plasmid psi-CHECK2 and 0.01 μg renilla luciferase (internal reference vector) was co-transfected into 293T cells which transfected with lentivirus containing miR-146a or NC using Lipofectamine 2000 in 96-well plates. Luciferase activity (fluorescence intensity) was determined using fluorophotometer 36 h after transfection.
Xenograft transplantation and in vivo chemosensitivity assay
A549 cells and A549/DDP cells transfected with miR-146a or NC (5 × 10
6
in 0.2 ml of PBS) were suspended in Matrigel mixture and were subcutaneously injected into BALB/c nude mice (Nu/Nu, female, 4–6 weeks old,
n
 = 8/group), which were purchased from Sun Yat-sen University (Guangdong, China) and maintained under pathogen-free conditions. After one week, mice were treated with DDP (3.0 mg/kg body weight; per 3 days). Tumor volume was monitored for 4 weeks and measured per 3 or 4 days. The tumor volume formed was calculated by the following formula: Volume = (Length × width
2
) × 0.5. Then mice were euthanized by cervical dislocation. Tumors were harvested and divided into two parts: half of each tumor was frozen in liquid nitrogen and stored at −80 °C for RT-qPCR and Western blotting analysis. The other half was fixed in 4% paraformaldehyde for TUNEL assay, H&E and IHC analysis as previously described [
30
,
36
].
Bioinformatic and statistical analysis
Online miRNA databases (miRBase, TargetScan, MiRanda, and PicTarget) were used to predict the target gene of miR-146a. The Graph pad prism 5.01 software system was used for statistical analysis. Data are expressed as the mean ± SD. All experiments were repeated three times. The statistical significance of the results between each group was evaluated using one-way ANOVA or
t
-test. Differences were considered significant at *
p
 < 0.05, **
p
 < 0.01, and ***
p
 < 0.001.
Results
Discussion
To our best knowledge, the role of miR-146a expression in DDP-resistent NSCLC has not been well documented. Interestingly, we found that miR-146a was down-regulated approximately 2-fold in A549/DDP cells, which attracts us to deeply explore the role of miR-146a in DDP-resistant NSCLC cells in vitro and vivo. Functional analysis indicated that miR-146a overexpression could sensitize NSCLC/DDP cells to DDP both in vitro and vivo by inducing G0/G1 phase arrest, inhibiting cell motility, and enhancing cell apoptosis. Therefore, we proposed that miR-146a might act as a chemosensitivity restorer to DDP in human NSCLC cells.
Conclusions
In summary, we firstly reported miR-146a was downregulated was in DDP-resistant human NSCLC cells (A549/DDP and SPC-A1/DDP) compared with the sensitive parental cell line A549 and SPC-A1, and further demonstrated that miR-146a might act as a chemosensitivity restorer to DDP in human NSCLC cells by targeting CCNJ and downregulating P-gp, MRP1 and LRP. Based on these evidences, our experimental data may provide a novel therapeutic application of targeting the miR-146a/CCNJ interaction to treat DDP-based regimens-resistant NSCLC.
Acknowledgements
None.
Funding
The research is supported by grants from National Natural Science Foundation of China (No. 81403300), Science and Technology Project of Guangdong Province of China (No. 2014A020212180) for the academic research.
Availability of data and materials
All data generated or analysed during this study are included in this published article.
Authors' contributions
LS, ZZX and BK contributed to the conception of the study; GW and XTC contributed significantly to analysis and manuscript preparation; BK, YYH and YJ performed the data analysis and wrote the manuscript; ZZX, WQJ and LS performed the analysis with constructive discussions. All authors have read and approved the manuscript, and ensure that this is the case.
Competing interests
The authors declare that they have no competing interests.
Consent for publication
Not applicable.
Ethics approval
This study was approved by the Ethics Committee of Sun Yat-sen University, Guangdong, China. This study involving animal research, and we've provided a statement on animal ethics approval and adherence to animal care guidelines.
Open Access
This article is distributed under the terms of the Creative Commons Attribution 4.0 International License (
http://​creativecommons.​org/​licenses/​by/​4.​0/​
), which permits unrestricted use, distribution, and reproduction in any medium, provided you give appropriate credit to the original author(s) and the source, provide a link to the Creative Commons license, and indicate if changes were made. The Creative Commons Public Domain Dedication waiver (
http://​creativecommons.​org/​publicdomain/​zero/​1.​0/​
) applies to the data made available in this article, unless otherwise stated.