01.12.2014 | Ausgabe 4/2014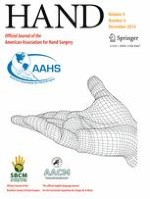 Upper Extremity Orthoses Use in Amyotrophic Lateral Sclerosis/Motor Neuron Disease: Three Case Reports
Zeitschrift:
Autoren:

Cindy C. Ivy, Susan M. Smith, Miranda M. Materi
Abstract
Background
Central to the armamentarium of a hand therapist is evaluation for successful orthotic use. Orthoses can have a profound effect on quality of life in persons with amyotrophic lateral sclerosis (ALS)/motor neuron disease (MND). The purposes of orthoses are to decrease the effects of muscle imbalance, provide assistance in performance of activities of daily living (ADLs), prevent joint contracture, and relieve pain. There are few published accounts on the usefulness of orthoses and ALS. The purpose of this paper is to expand the body of literature by describing three successful cases.
Methods
Three cases illustrate effects on weakened proximal muscles, wrist extensors, thenar musculature, and intrinsic muscles. The primary outcome measure is patient report, but functional rating scales, goniometry, quality of life scores, and pinch strength when obtainable are described.
Results
Due to the progressive nature of the disease, outcome measures can be inconclusive. Patient report of increased life satisfaction and ability to participate in daily life is the critical outcome in these case examples. In all cases, satisfaction increased. Some of the stated changes include the following: ability to manipulate objects, grip, eat, wipe face, hold phone, use iPad®, and adjust hat.
Conclusions
Upper extremity orthotic use can be a beneficial adjunct contributing to the quality of life for individuals with ALS/MND. We have observed positive responses in pain control, contracture management, functional positioning, and increased independence with the use of orthoses. Designing appropriate means of studying effects of orthosis intervention is deficient in the current scientific literature.