19.03.2020 | Original Article | Ausgabe 7/2020 Open Access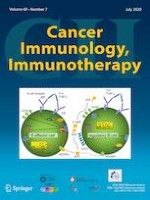 Upregulated immuno-modulator PD-L1 in malignant peripheral nerve sheath tumors provides a potential biomarker and a therapeutic target
Zeitschrift:
Autoren:

Said Farschtschi, Lan Kluwe, Su-Jin Park, Su-Jun Oh, Nancy Mah, Victor-Felix Mautner, Andreas Kurtz
Wichtige Hinweise
Electronic supplementary material
Publisher's Note
Springer Nature remains neutral with regard to jurisdictional claims in published maps and institutional affiliations.
Abstract
Background
Malignant peripheral nerve sheath tumors (MPNSTs) are rare aggressive sarcomas with poor prognosis. More than half of MPNSTs develop from benign precursor tumors associated with neurofibromatosis type 1 (NF1) which is a tumor suppressor gene disorder. Early detection of malignant transformation in NF1 patients is pivotal to improving survival. The primary aim of this study was to evaluate the role of immuno-modulators as candidate biomarkers of malignant transformation in NF1 patients with plexiform neurofibromas as well as predictors of response to immunotherapeutic approaches.
Methods
Sera from a total of 125 NF1 patients with quantified internal tumor load were included, and 25 of them had MPNSTs. A total of six immuno-modulatory factors (IGFBP-1, PD-L1, IFN-α, GM-CSF, PGE-2, and AXL) were measured in these sera using respective ELISA.
Results
NF1 patients with MPNSTs had significantly elevated PD-L1 levels in their sera compared to NF1 patients without MPNSTs. By contrast, AXL concentrations were significantly lower in sera of NF1-MPNST patients. IGFBP-1 and PGE2 serum levels did not differ between the two patient groups. IFN-α and GM-CSF were below the detectable level in most samples.
Conclusion
The immuno-modulator PD-L1 is upregulated in MPNST patients and therefore may provide as a potential biomarker of malignant transformation in patients with NF1 and as a response predictor for immunotherapeutic approaches.