01.01.2012 | Original article | Ausgabe 1/2012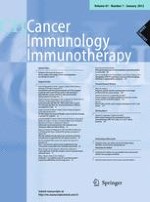 Upregulation of B7-H1 expression is associated with macrophage infiltration in hepatocellular carcinomas
Zeitschrift:
Autoren:

Jie Chen, Guosheng Li, Hong Meng, Yuchen Fan, Yonghong Song, Shurong Wang, Faliang Zhu, Chun Guo, Lining Zhang, Yongyu Shi
Wichtige Hinweise
Jie Chen and Guosheng Li contributed equally to this work.
Abstract
The overexpression of B7-H1 in hepatocellular carcinoma (HCC) mediates HCC immune escape and obstructs the immunotherapy based on tumor-specific CD8+ T cells. Tumor-associated macrophages (TAM) are a major component of cancer-related inflammation and play a central role in tumor promotion. To classify the mechanism underlying the overexpression of B7-H1 in HCC, we examined B7-H1 expression and TAM infiltration in 63 cases of human HCC samples using immunohistochemistry method and found that B7-H1 overexpression was associated with TAM infiltration in HCC tissues. Furthermore, B7-H1 expression was upregulated at both mRNA level and protein level in HCC cells (BEL-7402 and SMMC-7721) cocultured with macrophages in a transwell system. The upregulation of B7-H1 expression induced by macrophage was inhibited by blocking NF-κB or STAT3 signal pathways. These results suggest that overexpression of B7-H1 in HCC may be induced by inflammatory microenvironment involving macrophages and imply that anti-inflammation therapy might be preventive for immune escape and assistant for immunotherapy of HCC.