01.12.2017 | Research | Ausgabe 1/2017 Open Access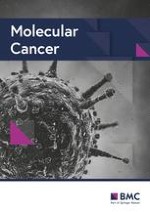 Upregulation of the long noncoding RNA UCA1 affects the proliferation, invasion, and survival of hypopharyngeal carcinoma
Zeitschrift:
Autoren:

Ye Qian, Dayu Liu, Shengda Cao, Ye Tao, Dongmin Wei, Wenming Li, Guojun Li, Xinliang Pan, Dapeng Lei
Abstract
Background
Several long noncoding RNAs (lncRNAs) are involved in oncogenesis.
Methods and Results
Our microarray analysis showed that numerous lncRNAs are dysregulated in hypopharyngeal squamous cell carcinoma (HSCC) tumor tissues as compared with normal tissues. Among those lncRNAs, urothelial carcinoma-associated 1 (UCA1) has been found to have an oncogenic role in HSCC. We confirmed the upregulation of UCA1 in HSCC by assessing its expression levels in a cohort of 53 patient tumors and paired non-tumor samples. In addition, we found that high UCA1 expression was significantly associated with advanced T category, late clinical stage, greater lymphatic invasion, and worse prognosis. Furthermore, in vitro experiments demonstrated that UCA1 functioned as an oncogene by promoting the proliferation and invasion and preventing the apoptosis of HSCC cells.
Conclusions
Taken together, our findings for the first time identify the role of UCA1 as a tumor promoter and a pro-metastatic factor in HSCC, demonstrating that UCA1 is a potential prognostic biomarker and therapeutic target in HSCC.