01.12.2015 | Research article | Ausgabe 1/2015 Open Access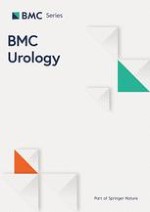 Ureteroscopic management of asymptomatic and symptomatic simple parapelvic renal cysts
Zeitschrift:
Autoren:

XiaWa Mao, Gang Xu, HuiFeng Wu, JiaQuan Xiao
Wichtige Hinweise
Competing interests
The authors declare that they have no competing interest.
Authors' contributions
XWM designed the study. GX recorded patients' information. HFW analysed the data. JQX contributed to the writing of the manuscript. All authors read and approved the final manuscript.
Abstract
Background
To investigate feasibility and safety of treating simple parapelvic renal cysts using flexible ureteroscopy with the Holmium laser.
Methods
Between February 2010 and July 2013, a total of 21 patients, aging from 29 to 71 (49.00 ± 13.23), were diagnosed with parapelvic renal cysts by ultrasonography in combination with contrast-enhanced computer tomography (CT) and intravenous urography (IVU) in the Department of Urology Surgery, People's Hospital of the Zhejiang province. Fifteen patients were asymptomatic and 6 patients were symptomatic with flank pain. All patients underwent drainage of the cysts using flexible ureteroscopy with Holmium laser. Patients were followed up 1, 3 and 12 months after the operation.
Results
The intervention was successful in 20 patients and failed in 1 patient who, subsequently successfully underwent a laparoscopic cyst removal. There were no intra-operative and post-operative complications reported. The mean operation time was 27 min (range: 15 to 45 min). The mean hospital stay was 2.6 days (range: 1 to 5 days). Twenty patients were followed up until 15 months after surgery. After such ureteroscopic management, there were no renal cysts detected in 7 patients (35 %) and a reduction in size of the renal cysts was found in 13 patients (65 %). Flank pain subsided in all 6 (100 %) previously symptomatic patients.
Conclusions
Flexible ureteroscopy with the Holmium laser may be a feasible and effective treatment option in selected patients with simple parapelvic renal cysts. Further prospective randomized studies that compare the procedure to laparoscopic treatments are needed.