01.12.2015 | Research article | Ausgabe 1/2015 Open Access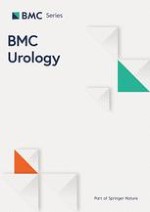 Urethral orifice hyaluronic acid injections: a novel animal model of bladder outlet obstruction
Zeitschrift:
Autoren:

Yongquan Wang, Zhiyong Xiong, Wei Gong, Zhansong Zhou, Gensheng Lu
Wichtige Hinweise
Zhansong Zhou and Gensheng Lu contributed equally to this work.
Competing interests
The authors declare that they have no competing interests.
Authors' contributions
WY carried out the animal model design, participated in the cystometric studies, and drafted the manuscript. XY carried out the histopathological studies. GW participated in the cystometric studies and performed the statistical analysis. ZZ participated in the design of the study. LG conceived of the study, participated in its design and coordination, and helped draft the manuscript. All authors read and approved the final manuscript.
Abstract
Background
We produced a novel model of bladder outlet obstruction (BOO) by periurethral injection of hyaluronic acid and compared the cystometric features, postoperative complications, and histopathological changes of that model with that of traditional open surgery.
Methods
Forty female Sprague-Dawley rats were divided into three groups. Fifteen rats were subcutaneously injected with 0.2 ml hyaluronic acid at 5, 7, and 12 o'clock around the urethral orifice. Another fifteen rats underwent traditional open partial proximal urethral obstruction surgery, and 10 normal rats used as controls. After 4 weeks, filling cystometry, postoperative complications, and histopathological features were evaluated in each group. Three rats were also observed for 12 weeks after hyaluronic acid injection to evaluate the long-term effect.
Results
Hyaluronic acid periurethral injection caused increased maximum cystometric capacity, maximum bladder pressure, micturition interval, and post-void residual urine volume compared with control (p < 0.01). The injection group had significantly shorter operative time, less incidence of incision infection and bladder stone formation compared with the surgery group (p < 0.01). Hematoxylin and eosin (HE) staining showed suburothelial and interstitial hyperemia edema and smooth muscle hypertrophy in both injection and surgery bladders; these were not observed in the control group. Bladder weight and thickness of smooth muscle in the injection and surgery groups were significantly greater than those in the control group (p < 0.01). Urethral epithelial hyperplasia and lamina propria inflammation were observed in the surgery group but not in the injection or control groups. Rats periurethrally injected hyaluronic acid were stable the compound was not fully absorbed in any rat after 12 weeks.
Conclusions
Hyaluronic acid periurethral injection generates a simple, effective, and persistent animal model of BOO with lower complications, compared with traditional surgery.