12.06.2018 | Clinical Investigation | Ausgabe 9/2018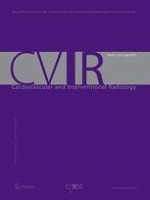 Urgent Endovascular Treatment for Non-traumatic Descending Thoracic Aortic Rupture
Zeitschrift:
Autoren:

Rohit Philip Thomas, Sandeep Sunder Amin, Osama Eldergash, Tobias Kowald, Sebastian Bremer, Jerry Easo, Alexander Weymann, Malte Book, Marcin Szczechowicz, Bernhard Schmuck, Ajay Chavan
Abstract
Purpose
To evaluate the efficacy of endovascular repair of non-traumatic rupture of the descending thoracic aorta.
Materials and Methods
From January 2011 to August 2017, 22 consecutive patients (16 men, mean age 73.7 years, range 63–92 years) with non-traumatic rupture of the descending thoracic aorta were treated endovascularly. Thirty-day mortality as well as procedure-related morbidity including stroke, renal, pulmonary and spinal complications were retrospectively assessed. Median follow-up was 29 months (range 6–65 months).
Results
Nine patients had type B dissections, and 13 had atherosclerotic aortic aneurysms. The technical success was 100%; 86.3% of patients (19/22) were treated percutaneously. Thirteen patients (59%) received a single endograft, 8 (36%) received 2 endografts, and 1 received 3 endografts. The endograft diameters ranged between 28 and 46 mm. Two dissection patients received additional distal bare metal true lumen stents. Eleven patients required additional drainage of thoracic hematoma. Three primary percutaneous sites (15.7%) required surgical revision. No spinal cord ischemic or renal complications were observed. Stroke was observed in 2 patients (9%), both with full coverage of left subclavian artery origin. Four patients (18%) required tracheostomy with prolonged respiratory support (range 10–15 days). The median intensive care unit stay was 5 days (range 1–27 days). The 30-day mortality was 18.1% (4/22).
Conclusion
Endoluminal repair of non-traumatic rupture of the descending thoracic aorta can be performed percutaneously. It showed a 30-day mortality of 18.1%, and no spinal cord injury or renal complications were observed in surviving patients at follow-up.
Level of Evidence
Level 4, case series.