19.10.2020 | Original Research Paper | Ausgabe 1/2021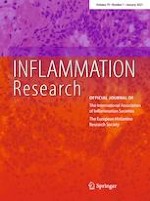 Uric acid drives intestinal barrier dysfunction through TSPO-mediated NLRP3 inflammasome activation
Zeitschrift:
Autoren:

Qiulan Lv, Daxing Xu, Jinfeng Ma, Yan Wang, Xiaomin Yang, Peng Zhao, Liang Ma, Zhiyuan Li, Wan Yang, Xiu Liu, Guanpin Yang, Shichao Xing
Wichtige Hinweise
Qiulan Lv and Daxing Xu contributed equally to this work.
Publisher's Note
Springer Nature remains neutral with regard to jurisdictional claims in published maps and institutional affiliations.
Abstract
Background and aim
Intestinal epithelial dysfunction is the foundation of various intestinal and extra-intestinal diseases, while the effects and mechanism of uric acid on the intestinal barrier are little known. TSPO has been shown to be related to the generation of ROS and is involved in regulating inflammation, whether uric acid drives intestinal epithelial dysfunction through TSPO-mediated NLRP3 inflammasome activation is unknown.
Methods
UOX gene knockout mouse (UOX-/-) were used for models of hyperuricemia. Fluorescein isothiocyanate (FITC)-labeled dextran was used to assess in vivo intestinal permeability. Serum lipopolysaccharide (LPS) and culture supernatants IL-1β were measured using ELISA Kit. IEC-6 exposed to different concentrations of uric acid was used for in vitro experiment. Protein content and mRNA were assessed using Western blotting and Q-PCR, respectively. Intracellular ROS was determined using flow cytometry and fluorescence microscope. Mitochondrial membrane potential was detected on an immunofluorescence. Small interfering RNA transfection was used to assess the interaction between translocator protein (TSPO) and NLRP3 inflammasome. N-acetyl-L-cysteine (NAC) was used as ROS scavenger.
Results
Our results showed that hyperuricemia mice were characteristic by increased intestinal permeability. Hyperuricemia upregulated TSPO, increased production of ROS and activated NLRP3 inflammasome, which resulted in lower expression of occludin and claudin-1. In vitro, we showed that soluble uric acid alone increased the expression of TSPO, depolarized mitochondrial membrane potential, increased ROS release and activated NLRP3 inflammasome, which further reduced the expression of occludin and claudin-1. Silencing TSPO suppressed NLRP3 inflammasome activation and increased expression of claudin-1 and occludin, which was accompanied by lower levels of ROS. Scavenging ROS also significantly inhibited NLRP3 inflammasome activation without change of TSPO, indicating that TSPO-mediated NLRP3 inflammasome activation was dependent on ROS.
Conclusions
In conclusion, uric acid drives intestinal barrier dysfunction through TSPO-mediated NLRP3 inflammasome.