01.12.2014 | Original Article | Ausgabe 12/2014 Open Access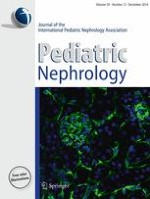 Urinary angiotensinogen and urinary sodium are associated with blood pressure in normoalbuminuric children with diabetes
Zeitschrift:
Autoren:

Jolanta Soltysiak, Bogda Skowronska, Piotr Fichna, Danuta Ostalska-Nowicka, Witold Stankiewicz, Maria Lewandowska-Stachowiak, Katarzyna Lipkowska, Jacek Zachwieja
Abstract
Background
The aim of this study was to evaluate the association between blood pressure (BP) and urinary angiotensinogen excretion (uAGT) and renal sodium excretion (uNa) in children with type 1 diabetes mellitus (DM1).
Methods
The study group consisted of 52 children with DM1 (28 males and 24 females) with albumin/creatinine ratio (ACR) below 30 mg/g and glomerular filtration rate (eGFR) above 90 ml/min/1.73 m2. BP was assessed by 24-h ambulatory blood pressure monitoring (ABPM).
Results
The patients showed significantly increased uAGT values with respect to controls (median 0.00 and range 1.76 vs. 0.00 and 0.00 ng/mg, respectively). The significant increase of uAGT was observed even in prehypertensive patients. uAGT concentrations showed positive correlation with systolic and diastolic 24-h BP and with mean arterial pressure (MAP) (
r
 = 0.594). uNa values were negatively correlated with BP parameters, uAGT, ACR and eGFR.
Conclusions
An increase in uAGT precedes hypertension (HTN) in normoalbuminuric children with DM1 and may be considered as a new marker of HTN. Decreased sodium excretion seems to be involved in the development of HTN and early renal injury. Both uAGT and uNa are associated with BP in normoalbuminuric diabetic children.