01.12.2015 | Research article | Ausgabe 1/2015 Open Access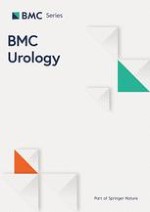 Urinary ATP as an indicator of infection and inflammation of the urinary tract in patients with lower urinary tract symptoms
Zeitschrift:
Autoren:

Kiren Gill, Harry Horsley, Anthony S Kupelian, Gianluca Baio, Maria De Iorio, Sanchutha Sathiananamoorthy, Rajvinder Khasriya, Jennifer L Rohn, Scott S Wildman, James Malone-Lee
Wichtige Hinweise
Competing interests
The authors declare that they have no competing interests.
Authors' contributions
Authors KG, HH, SS, AK, RK, JH and JML have made substantial contributions to the conception and design of this experiment, acquisition of data including microscopy, urine culture and carrying out ATP assays, drafting and revising the manuscript. Authors KG, GB, MDI and JML have made substantial contributions to the analysis and interpretation of the data, drafting and revising the manuscript. All authors read and approved the final manuscript.
Abstract
Background
Adenosine-5′-triphosphate (ATP) is a neurotransmitter and inflammatory cytokine implicated in the pathophysiology of lower urinary tract disease. ATP additionally reflects microbial biomass thus has potential as a surrogate marker of urinary tract infection (UTI). The optimum clinical sampling method for ATP urinalysis has not been established. We tested the potential of urinary ATP in the assessment of lower urinary tract symptoms, infection and inflammation, and validated sampling methods for clinical practice.
Methods
A prospective, blinded, cross-sectional observational study of adult patients presenting with lower urinary tract symptoms (LUTS) and asymptomatic controls, was conducted between October 2009 and October 2012. Urinary ATP was assayed by a luciferin-luciferase method, pyuria counted by microscopy of fresh unspun urine and symptoms assessed using validated questionnaires. The sample collection, storage and processing methods were also validated.
Results
75 controls and 340 patients with LUTS were grouped as without pyuria (n = 100), pyuria 1-9 wbc μl-1 (n = 120) and pyuria ≥10 wbc μl-1 (n = 120). Urinary ATP was higher in association with female gender, voiding symptoms, pyuria greater than 10 wbc μl-1 and negative MSU culture. ROC curve analysis showed no evidence of diagnostic test potential. The urinary ATP signal decayed with storage at 23°C but was prevented by immediate freezing at ≤ -20°C, without boric acid preservative and without the need to centrifuge urine prior to freezing.
Conclusions
Urinary ATP may have a role as a research tool but is unconvincing as a surrogate, clinical diagnostic marker.