01.10.2013 | Research | Ausgabe 5/2013 Open Access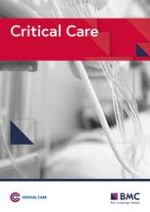 Urinary output and fractional excretion of sodium and urea as indicators of transient versus intrinsic acute kidney injury during early sepsis
Zeitschrift:
Autoren:

Jill Vanmassenhove, Griet Glorieux, Eric Hoste, Annemieke Dhondt, Raymond Vanholder, Wim Van Biesen
Wichtige Hinweise
Electronic supplementary material
The online version of this article (doi:
10.​1186/​cc13057
) contains supplementary material, which is available to authorized users.
Competing interests
The authors have no financial or nonfinancial competing interests to declare.
Authors' contributions
JV coordinated the study, collected the samples, and acquired all necessary information for analysis and interpretation of the data and writing of the draft. GG was responsible for all laboratory analyses and revised the manuscript critically. EH helped including patients and revised the manuscript critically. AD helped including patients and revised the manuscript critically. RV helped designing the study and revised the manuscript critically. RV also participated in carrying out the statistical analysis. WVB conceived of the study and participated in its design and coordination and helped to draft the manuscript. WVB also performed statistical analysis. All authors read and approved the final manuscript.
Abstract
Introduction
The pathophysiology of acute kidney injury (AKI) in sepsis is ill defined. We investigated parameters associated with low glomerular filtration, and their predictive value to discriminate transient from intrinsic septic AKI.
Methods
In 107 sepsis patients, AKI was defined by the Risk, Injury, Failure, Loss of Kidney Function, End-stage renal disease (RIFLE) urinary output or serum creatinine criterion, or both. Transient AKI (TAKI) versus intrinsic AKI was defined as RIFLE R, I, or F on the first day evolving to no AKI or not, respectively, over the following 5 days. Fractional excretion of sodium (FENa), urea (FEUrea), and NGAL (FENGAL) at admission (d0t0), 4 (d0t4), and 24 hours (d1) was determined.
Results
Including versus not including the urinary-output criterion of RIFLE increased AKI from 43% to 64.5%. Median uNGAL levels and FENGAL were lower in no AKI versus transient AKI when AKI was defined based on creatinine (
P
= 0.002 and
P
= 0.04, respectively), but not when based on urinary output (
P
= 0.9 and
P
= 0.49, respectively). FENa < 1% and FEUrea <35% was present in 77.3% and 63.2% of patients. Urinary NGAL was higher (
P
< 0.001) in those with high versus low fractional sodium excretion, but this was only in patients with transient or intrinsic AKI (
P
< 0.001 in subgroups), and not in patients without AKI. The negative predictive value for either intrinsic AKI or not restoring diuresis in patients with FENa > 0.36% and FEUrea > 31.5% was 92% and 94.5% respectively.
Conclusions
A low FENa and FEUrea is highly prevalent in the first hours of sepsis. In sepsis, oliguria is an earlier sign of impending AKI than increase in serum creatinine. A combination of a high FENa and a low FEUrea is associated with intrinsic AKI, whereas a combined high FENa and FEUrea is strongly predictive of transient AKI.