01.08.2011 | Research | Ausgabe 4/2011 Open Access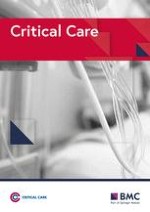 Urine hepcidin has additive value in ruling out cardiopulmonary bypass-associated acute kidney injury: an observational cohort study
Zeitschrift:
Autoren:

Anja Haase-Fielitz, Peter R Mertens, Michael Plaß, Hermann Kuppe, Roland Hetzer, Mark Westerman, Vaughn Ostland, John R Prowle, Rinaldo Bellomo, Michael Haase
Wichtige Hinweise
Electronic supplementary material
The online version of this article (doi:
10.​1186/​cc10339
) contains supplementary material, which is available to authorized users.
Competing interests
MW is a shareholder, president and chief executive officer of Intrinsic LifeSciences, a developer and distributor of an enzyme-linked immunosorbent assay for hepcidin. MW has received consulting fees and grant support from Centocor-Ortho Research and Development. JRP and RB are named in a US preliminary patent application in conjunction with MW. RB has received consulting fees from Gambro, Biosite, Abbott Diagnostics and Philips Medical Systems, as well as grant support from Fresenius Kabi, Bard, Pfizer and Gambro. MH received lecture fees from Abbott Diagnostics and Biosite/Alere.
Authors' contributions
MH, AHF and RB conceived of the study, participated in its design and drafted the manuscript. MW and VO carried out the hepcidin measurements and, together with JRP, MP, HK, RH and PRM, participated in its design, helped to draft the manuscript and provided critical intellectual content. All authors read and approved the final manuscript.
Abstract
Introduction
Conventional markers of acute kidney injury (AKI) lack diagnostic accuracy and are expressed only late after cardiac surgery with cardiopulmonary bypass (CPB). Recently, interest has focused on hepcidin, a regulator of iron homeostasis, as a unique renal biomarker.
Methods
We studied 100 adult patients in the control arm of a randomized, controlled trial
http://​www.​clinicaltrials.​gov/​NCT00672334
who were identified as being at increased risk of AKI after cardiac surgery with CPB. AKI was defined according to the Risk, Injury, Failure, Loss, End-stage renal disease classification of AKI classification stage. Samples of plasma and urine were obtained simultaneously (1) before CPB (2) six hours after the start of CPB and (3) twenty-four hours after CPB. Plasma and urine hepcidin 25-isoforms were quantified by competitive enzyme-linked immunoassay.
Results
In AKI-free patients (
N
= 91), urine hepcidin concentrations had largely increased at six and twenty-four hours after CPB, and they were three to seven times higher compared to patients with subsequent AKI (
N
= 9) in whom postoperative urine hepcidin remained at preoperative levels (
P
= 0.004,
P
= 0.002). Furthermore, higher urine hepcidin and, even more so, urine hepcidin adjusted to urine creatinine at six hours after CPB discriminated patients who did not develop AKI (area under the curve (AUC) receiver operating characteristic curve 0.80 [95% confidence interval (95% CI) 0.71 to 0.87] and 0.88 [95% CI 0.78 to 0.97]) or did not need renal replacement therapy initiation (AUC 0.81 [95% CI 0.72 to 0.88] 0.88 [95% CI 0.70 to 0.99]) from those who did. At six hours, urine hepcidin adjusted to urine creatinine was an independent predictor of ruling out AKI (
P
= 0.011). Plasma hepcidin did not predict no development of AKI. The study findings remained essentially unchanged after excluding patients with preoperative chronic kidney disease.
Conclusions
Our findings suggest that urine hepcidin is an early predictive biomarker of ruling out AKI after CPB, thereby contributing to early patient risk stratification.