01.10.2010 | Research | Ausgabe 5/2010 Open Access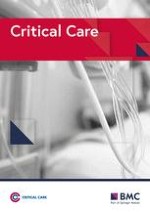 Urine interleukin-6 is an early biomarker of acute kidney injury in children undergoing cardiac surgery
Zeitschrift:
Autoren:

Paula Dennen, Christopher Altmann, Jonathan Kaufman, Christina L Klein, Ana Andres-Hernando, Nilesh H Ahuja, Charles L Edelstein, Melissa A Cadnapaphornchai, Angela Keniston, Sarah Faubel
Wichtige Hinweise
Electronic supplementary material
The online version of this article (doi:
10.​1186/​cc9289
) contains supplementary material, which is available to authorized users.
Competing interests
The authors declare that they have no competing interests.
Authors' contributions
PD designed the study and prepared the manuscript. CA, CK, AAH and NA carried out biomarker measurements. JK designed the study and collected human samples. MC designed the study. AK performed statistical analyses. CLE assisted with drafting of the manuscript. SF performed animal surgeries, prepared and performed the proximal tubule experiments, developed the pre-renal azotemia model, conceived of the study, and drafted the manuscript. All authors read and approved the final manuscript.
Abstract
Introduction
Interleukin-6 (IL-6) is a proinflammatory cytokine that increases early in the serum of patients with acute kidney injury (AKI). The aim of this study was to determine whether urine IL-6 is an early biomarker of AKI and determine the source of urine IL-6. Numerous proteins, including cytokines, are filtered by the glomerulus and then endocytosed and metabolized by the proximal tubule. Since proximal tubule injury is a hallmark of AKI, we hypothesized that urine IL-6 would increase in AKI due to impaired proximal tubule metabolism of filtered IL-6.
Methods
Urine was collected in 25 consecutive pediatric patients undergoing cardiac bypass surgery (CPB). AKI was defined as a 50% increase in serum creatinine at 24 hours (RIFLE (Risk, Injury, Failure, Loss, End stage), R). Mouse models of AKI and freshly isolated proximal tubules were also studied.
Results
Urine IL-6 increased at six hours in patients with AKI versus no AKI (X
2
= 8.1750;
P
< 0.0042). Urine IL-6 > 75 pg/mg identified AKI with a sensitivity of 88%. To assess whether increased urine IL-6 occurs in functional versus structural renal failure, mouse models of pre-renal azotemia after furosemide injection (no tubular injury), ischemic AKI (tubular injury) and cisplatin AKI (tubular injury) were studied. Urine IL-6 did not significantly increase in pre-renal azotemia but did increase in ischemic and cisplatin AKI. To determine if circulating IL-6 appears in the urine in AKI, recombinant human (h)IL-6 was injected intravenously and urine collected for one hour; urine hIL-6 increased in ischemic AKI, but not pre-renal azotemia. To determine the effect of AKI on circulating IL-6, serum hIL-6 was determined one hour post-intravenous injection and was increased in ischemic AKI, but not pre-renal azotemia. To directly examine IL-6 metabolism, hIL-6 was added to the media of normal and hypoxic isolated proximal tubules; hIL-6 was reduced in the media of normal versus injured hypoxic proximal tubules.
Conclusions
Urine IL-6 increases early in patients with AKI. Animal studies demonstrate that failure of proximal tubule metabolism of IL-6 results in increased serum and urine IL-6. Impaired IL-6 metabolism leading to increased serum IL-6 may contribute to the deleterious systemic effects and increased mortality associated with AKI.