01.09.2009 | Leitthema | Ausgabe 9/2009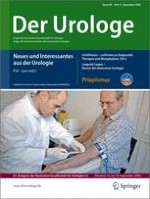 Uro-Onkologie – Update 2009
Zeitschrift:
Autor:

Prof. Dr. T. Otto
Wichtige Hinweise
Das Literaturverzeichnis finden Sie in der html-Version dieses Beitrags im Online-Archiv auf der Zeitschriftenhomepage http://www.DerUrologe.de.
Die Aktualität des vorliegenden Beitrages stützt sich auf die für das Gebiet der Uroonkologie führenden Weltkongressen des Jahres 2009:
1.
European Association of Urology 17. bis 21. März 2009, Stockholm,Schweden,
2.
American Urological Association 25. bis 30. April 2009, Chicago, USA,
3.
American Association of Clinical Oncology 29. Mai bis 2. Juni 2009, Orlando, USA.
...