01.10.2011 | Original Article | Ausgabe 10/2011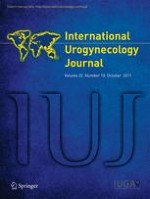 Urodynamic indices and pelvic organ prolapse quantification 3 months after vaginal delivery in primiparous women
Zeitschrift:
Autoren:

Clifford Y. Wai, Donald D. McIntire, Shanna D. Atnip, Joseph I. Schaffer, Steven L. Bloom, Kenneth J. Leveno
Abstract
Introduction and hypothesis
This study aims to describe multichannel urodynamic indices and pelvic organ prolapse quantification (POP-Q) in primiparous women 3 months after vaginal delivery.
Methods
This was a secondary analysis of a group of women who had been randomized to either coached or non-coached pushing during the second stage of labor. Primiparous women were evaluated with POP-Q examination and multichannel urodynamic testing 3 months after vaginal delivery.
Results
Of 128 women evaluated, the cumulative stage of prolapse was distributed as 4.7% stage 0, 39% stage I, 56% stage II, and none with stage III prolapse or greater. For the anterior compartment, most had stage II prolapse. Stage I prolapse predominated for both the central and posterior compartments. Of the women, 14.1% had urodynamic stress incontinence, 12.5% had detrusor overactivity, and 6% had both.
Conclusions
In a predominantly Hispanic primiparous population, ICS POP-Q stage II prolapse of the vagina, urodynamic stress incontinence, and detrusor overactivity are common findings at a 3-month postpartum assessment.