01.10.2008 | Regular Article | Ausgabe 4/2008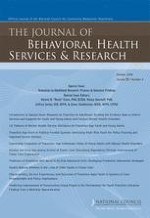 US Patterns of Mental Health Service Utilization for Transition-Age Youth and Young Adults
Autoren:

PhD Kathleen J. Pottick, MS Scott Bilder, PhD Ann Vander Stoep, PhD Lynn A. Warner, BA Mike F. Alvarez
Wichtige Hinweise
Results from preliminary analyses were presented at the 19th Annual Research Conference of the Research and Training Center for Children's Mental Health, University of South Florida, A System of Care for Children's Mental Health, Expanding the Research Base, Tampa, FL, February 22–24, 2006. The authors thank Ronald W. Manderscheid, Marilyn J. Henderson, Laura Milazzo-Sayre, and Raquel Crider for technical assistance in the use of the data; Donald Hoover for statistical consultation; and Jane E. Miller for consultation on table preparation.
This study was supported in part by a grant from the Annie E. Casey Foundation (201.0034) and by an undergraduate educational training grant from the National Institute of Mental Health (MH 58908) at the Institute for Health, Health Care Policy and Aging Research, Rutgers University.
Abstract
This study examines rates of admission and patterns of mental health service use by persons of transition age (16–25 years) in the USA based on the nationally representative 1997 Client/Patient Sample Survey and population data from the US Census Bureau. A precipitous decline in utilization was observed at the age of emancipation: the yearly admission rate for inpatient, outpatient, and residential services was 34 per 1,000 for 16- and 17-year-olds and 18 per 1,000 for 18- and 19-year-olds. Among 20- and 21-year-olds, more were referred from criminal justice and fewer from family or friends and social services, and proportionately more were Medicaid recipients. Targeting resources to enhance shared planning between child and adult systems may facilitate continuity of care for young adult clients who are aging out of child mental health systems, as well as for those who experience their first episodes of mental disorder in early adulthood.