28.07.2017 | Original Research | Ausgabe 2/2017 Open Access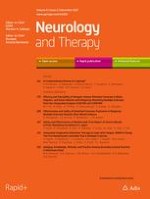 Use of Prazosin for Pediatric PTSD-Associated Nightmares and Sleep Disturbances: A Retrospective Chart Review
Zeitschrift:
Autoren:

Brooks R. Keeshin, Qian Ding, Angela P. Presson, Steven J. Berkowitz, Jeffrey R. Strawn
Abstract
Introduction
Youth exposed to trauma have an increased risk for developing posttraumatic stress disorder (PTSD) and associated sleep disturbances and nightmares. The alpha-1 antagonist prazosin reduces sleep disturbances and nightmares in adults with PTSD; however, its use in youth with PTSD has not been systematically evaluated. We retrospectively examined the tolerability and clinical outcomes associated with prazosin treatment in youth with PTSD-related nightmares and dysomnias.
Method
A retrospective chart review identified youth with PTSD (
N
= 40) treated with prazosin between 2014 and 2016 in a trauma clinic. We assessed the UCLA PTSD Reaction Index for Diagnostic and Statistical Manual of Mental Disorders, Fifth Edition scores (and sub-scores for intrusive, hyperarousal, avoidant and negative cognition/mood symptoms) and sleep scale, as well as adverse events and vital signs. Linear mixed effects models were utilized to evaluate the change in symptom severity, and vital signs were monitored throughout treatment.
Result
Follow-up data were available for 34 patients with PTSD (mean age 13.4 ± 2.9 years, 82% female), of whom 76% had a history of sexual abuse and 65% had at least one comorbid psychiatric disorder. The mean duration of prazosin treatment was 10.2 ± 8.1 (range 2–30) weeks, and the mean number of follow-up visits was 3 ± 1.23. Of these 34 patients, 79% received trauma-focused cognitive behavioral therapy. The dose range of prazosin was 1–15 mg at every bedtime (0.02–0.3 mg/kg), with 35% receiving ≥5 mg/day. Treatment-emergent side effects were reported by 26% (
n
= 8) of patients, including dizziness (18%), anxiety (9%) and headaches (6%). Prazosin treatment was associated with improved sleep and nightmares over time (pre-treatment 7.3 ± 0.9, post-treatment 3.1 ± 2.4;
p
< 0.001).
Conclusion
Prazosin was well-tolerated and associated with improvements in nightmares and sleep in youth with PTSD. Adverse events were consistent with the known side-effect profile of prazosin and included dizziness and nausea.