29.05.2019 | Original Research | Ausgabe 8/2019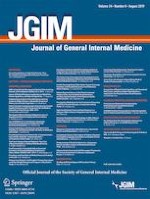 Use of PROMIS-29® in US Veterans: Diagnostic Concordance and Domain Comparisons with the General Population
Zeitschrift:
Autoren:

PhD, MPH, MBA Sherri L. LaVela, PhD Bella Etingen, BS Scott Miskevics, PhD David Cella
Wichtige Hinweise
Publisher's Note
Springer Nature remains neutral with regard to jurisdictional claims in published maps and institutional affiliations.
Abstract
Background
PROMIS® items have not been widely or systematically used within the Veterans Health Administration (VA).
Objective
To examine the concordance of PROMIS-29® scores and medical record diagnosis in US Veterans and to compare Veteran scores relative to US population norms.
Design/Participants
Cross-sectional multi-site survey of Veterans (
n
 = 3221) provided sociodemographic and PROMIS-29® domain data. Electronic medical records provided health condition (depression, anxiety, sleep disorders, pain disorders) diagnosis data.
Main Measures
For each domain, we calculated PROMIS® standardized
T
scores and used
t
tests to compare PROMIS® scores for Veterans diagnosed with each targeted health condition vs. those without that documented clinical diagnosis and compare mean Veterans' PROMIS-29® with US adult population norms.
Key Results
Veterans with (vs. without) a depression diagnosis reported significantly higher PROMIS® depression scores (60.3 vs. 49.6,
p
 < .0001); those with an anxiety diagnosis (vs. without) reported higher average PROMIS® anxiety scores (62.7 vs. 50.9,
p
 < .0001). Veterans with (vs. without) a pain disorder reported higher pain interference (65.3 vs. 57.7,
p
 < .0001) and pain intensity (6.4 vs. 4.4,
p
 < .0001). Veterans with (vs. without) a sleep disorder reported higher sleep disturbance (55.8 vs. 51.2,
p
 < .0001) and fatigue (57.5 vs. 51.8,
p
 < .0001) PROMIS® scores. Compared with the general population norms, Veterans scored worse across all PROMIS-29® domains.
Conclusions
We found that PROMIS-29® domains are selectively sensitive to expected differences between clinically-defined groups, suggesting their appropriateness as indicators of condition symptomology among Veterans. Notably, Veterans scored worse across all PROMIS-29(R) domains compared with population norms. Taken collectively, our findings suggest that PROMIS-29® may be a useful tool for VA providers to assess patient's physical and mental health, and because PROMIS® items are normed to the general population, this offers a way to compare the health of Veterans with the adult population at large and identify disparate areas for intervention.