12.10.2017 | Original Research | Ausgabe 4/2017 Open Access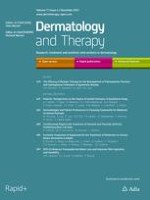 Use of Supplementary Patient Education Material Increases Treatment Adherence and Satisfaction Among Acne Patients Receiving Adapalene 0.1%/Benzoyl Peroxide 2.5% Gel in Primary Care Clinics: A Multicenter, Randomized, Controlled Clinical Study
Zeitschrift:
Autoren:

Timothy Myhill, Warwick Coulson, Paul Nixon, Simon Royal, Terry McCormack, Nabil Kerrouche
Abstract
Introduction
Poor adherence to acne treatment may lead to unnecessary treatments, increased healthcare costs, and reduced quality of life (QoL). This multicenter study evaluated the effect of supplementary patient education material (SEM) (a short video, information card, and additional information available online) on treatment adherence and satisfaction among acne patients treated with the fixed-dose combination adapalene 0.1%/benzoyl peroxide 2.5% gel (A/BPO) in primary care clinics versus (1) standard-of-care patient education (SOCPE) (package insert and oral instruction) and (2) SOCPE plus more frequent clinic visits.
Methods
Subjects with acne were randomized to receive once-daily A/BPO for 12 weeks plus (1) SEM in addition to SOCPE; (2) SOCPE only with two additional visits; or (3) SOCPE only. Other assessments included a subject appreciation questionnaire, a physician questionnaire, and safety.
Results
Ninety-seven subjects were enrolled. At baseline, most (87.6%) had mild to moderate acne. Better adherence was observed in the A/BPO + SEM group compared with A/BPO + more visits or A/BPO alone [mean 63.1%, 48.2% (
p
= 0.0206), and 56.5%, respectively]. The A/BPO + SEM group had more subjects with greater than 75% adherence (45%, 30.4%, and 25%, respectively). According to the subject appreciation questionnaire, the SEM was more helpful to adhere to treatment (56.7%) versus more visits (32.3%) and A/BPO alone (15.2%), better use the product (70%, 61.3%, and 54.5%, respectively), and better manage skin irritation (53.3%, 48.4%, and 36.4%, respectively). All physicians were satisfied with the SEM and 90% would consider using it in their practice. Safety assessment showed fewer treatment-related adverse events in the A/BPO + SEM group.
Conclusion
Use of the SEM may increase adherence of acne patients treated with once-daily A/BPO gel in primary care, consequently improving treatment and QoL in the long term.
Funding
Nestle Skin Health-Galderma R&D.
Trial Registration
ClinicalTrials.gov Identifier: NCT02307266.