01.12.2021 | Research article | Ausgabe 1/2021 Open Access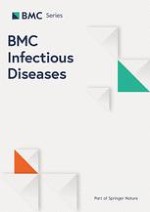 Use of T-SPOT.TB for the diagnosis of unconventional pleural tuberculosis is superior to ADA in high prevalence areas: a prospective analysis of 601 cases
Zeitschrift:
Autoren:

Xinting Yang, Jing Zhang, Qingtao Liang, Liping Pan, Hongfei Duan, Yang Yang, Hua Li, Chao Guo, Qi Sun, Hongyan Jia, Boping Du, Rongrong Wei, Aiying Xing, Zongde Zhang, Xiaoyou Chen
Wichtige Hinweise
Xinting Yang, Jing Zhang and Qingtao Liang contributed equally to this work.
Publisher's Note
Springer Nature remains neutral with regard to jurisdictional claims in published maps and institutional affiliations.
Abbreviations
CRS
Composite reference standard
CFP-10
Culture filtrate protein-10
ESAT-6
Early secretory antigenic target-6
ELISPOT
Enzyme-linked immunosorbent spot
ECDC
European Centre for Disease Prevention and Control
IGRA
Interferon gamma release assay
+LR:
Positive likelihood ratio
-LR
Negative likelihood ratio
MTB
Mycobacterium tuberculosis
NPV
Negative predictive value
PBMCs
Peripheral blood mononuclear cells
PFMCs
Pleural fluid mononuclear cells
PPV
Positive predictive value
ROC
Receiver operating characteristic
TPE
Tuberculous pleural effusion
WHO
World Health Organization
Background
Methods
Participant population and study procedure
A prospective study was performed at Beijing Chest Hospital, Capital Medical University, from June 2015 to October 2018, in which all suspected pleural effusion (PE) patients were enrolled consecutively. The enrolled patients met the following criteria: (1) age ≥ 14 years; (2) presentation with PE on chest ultrasonic examinations; and (3) tolerated thoracic puncture and had more than 100 ml pleural effusion. The exclusion criteria were as follows: (1) HIV positive; (2) a history of immunodeficiency, autoimmune disease or use of immunosuppressive drugs; and (3) previous anti-tuberculosis treatment for more than 2 weeks.
Clinical samples (including sputum, peripheral blood (PB) and pleural fluid (PF)) from all participants were processed for diagnostic purposes after obtaining written informed consent (P.S. The consent of the participants below age 18 years were obtained from their guardian); tests included routine clinical biochemical testing for each PF sample, which contains total protein, glucose, lactate dehydrogenase (LDH) and ADA, and smear microscopy, culture and Gene-Xpert for each sputum and PF sample. All participants' clinical data were extracted by the investigators, and the treatment process and discharge diagnoses were tracked. All participants were followed up for 12 months to verify the final diagnosis, and patients with negative outcomes after anti-TB treatment in the last 12 months were deemed indeterminate diagnoses.
Clinical categories of pleurisy
Patients were divided into three groups according to the composite reference standard (CRS), which was composed of clinical, laboratory, and radiological examinations and follow-up data of diagnostic treatment. (1) Bacteriologically confirmed TPE was represented by the isolation of
MTB
in PE, sputum or pleural tissue by culture, microscopy or Gene-Xpert, or a pleural biopsy that demonstrated caseating granulomas. (2) Probable TPE lacked bacteriological confirmation, but all patients were treated empirically for TB based on clinical suspicion (e.g., typical clinical symptoms, remarkable radiological imaging and positive outcome of anti-TB treatment during follow-up). (3) Non-TPE indicated cases were diagnosed definitively as other diseases, such as malignancy or empyema (non-tuberculous disease).
ADA measurement
ADA activity was determined colorimetrically at 37°C using a commercial kit (Adenosine Deaminase Assay Kit; Beijing Strong Bio-technologies, Beijing, China) according to the peroxidase assay [
11
]. One unit of ADA was defined as the amount of enzyme that generated one micromole of inosine from adenosine per minute at 37°C. The results were expressed in international units per litre of PE (IU/L).
T-SPOT.TB in PF and PB
The PB (4 mL) and PF (45 mL) samples collected from each participant were tested within 6 h. The PB samples were diluted 1-fold and centrifuged at 900 g for 20 min, and the PF samples were centrifuged at 500 g for 10 min. The supernatant of both samples was discarded for T-SPOT.TB testing.
The T-SPOT.TB assay was conducted following the manufacturer's instructions (Oxford Immunotec Ltd., Oxford, UK), which were identical for both the PB and PF samples. The pellets were resuspended in 8 mL of AIM-V medium (GIBCO, Rockville, MD, USA). Briefly, mononuclear cells (MCs) were separated using FicolleHypaque, washed, resuspended, and counted. Empty wells were used as negative controls, the T lymphocyte mitogen phytohemagglutinin was used as a positive control, and the ESAT-6 and CFP-10 peptides were in separate wells. Isolated peripheral blood mononuclear cells (PBMCs) and pleural fluid mononuclear cells (PFMCs) were added to the wells (2.5 × 10 5 cells per well) that were precoated with a monoclonal antibody against IFN-γ and incubated at 37 °C for 16 to 20 h. The spot-forming cells (SFCs) were read using an automated enzyme-linked immunosorbent spot (ELISPOT) reader (CTL-ImmunoSpotS5 Versa Analyser). A test was considered valid when the positive control > 20 SFCs/10 6 mononuclear cells and the negative control < 6 SFCs/10 6 mononuclear cells. The final SFCs of ESAT-6 or CFP-10 were defined as ESAT-6 or CFP-10 SFCs minus negative control SFCs. The Max SFCs of the T-SPOT assay were defined as the larger of the final ESAT-6 and CFP-10 SFCs.
Diagnosis
Smear, acid-fast bacilli (AFB) and mycobacterial culture
Specimens including sputum and PF (5 mL) were prepared for direct smear and stained with auramine and examined by light-emitting diode microscopy. The smear was read and interpreted in accordance with the WHO guidelines [
12
]. The sputum and PF (5 mL) were preprocessed using N-acetyl-L-cysteine and sodium hydroxide (NALC-NaOH) and centrifuged, and the supernatant was discarded. The resuspended pellet was transferred to solid Lowenstein-Jensen medium (Encode Medical Engineering Co., Ltd., China) and liquid medium and subjected to culture in a mycobacterial growth indicator tube (MGIT) 960 system (Becton, Dickinson and Company, USA). The presence of the
MTB
complex in any medium represented positive MPT64 antigen testing. The positive events and time were recorded.
Gene-Xpert
The Gene-Xpert test was performed according to the manufacturer's instructions (Cepheid, Sunnyvale, CA, USA). Briefly, the specimen (including sputum and concentrated PF) and sample reagent were fully premixed at room temperature. The final 2 ml mixture was collected and transferred to the cartridge and loaded into the automatic Gene-Xpert instrument. Duplicate testing was performed on samples with an invalid result.
Statistical analysis
Data were analysed using IBM SPSS 25.0 (SPSS Inc. Chicago, IL, USA) GraphPad Prism 8.2.1 (GraphPad Software, Inc. La Jolla, USA). Quantitative variables are presented as the mean ± standard deviation (SD) or median (interquartile range (IQR)), and categorical variables are presented as frequencies (percentages). To identify differences between two independent groups, the chi-square test was used to detect differences between categorical variables, and the Mann-Whitney U test and unpaired
t
-test were used for continuous data in non-normal or normal distributions, respectively. A result was considered statistically significant when the
P
-value was < 0.05.
Receiver operating characteristic (ROC) curves were plotted to evaluate the diagnostic performance of ADA and T-SPOT.TB, obtaining the optimal cut-off value and calculating the corresponding areas under the ROC curve (AUCs). The sensitivity, specificity, positive predictive value (PPV), negative predictive value (NPV), positive likelihood ratio (+LR), negative likelihood ratio (−LR), diagnostic odds ratio (DOR) and accuracy were calculated.
Predictors that were related to TPE by a predetermined
P
-value of 0.10 or less were selected and used in a multivariable logistic regression model (except symptoms). Stepwise backward selection using
P
 < 0.10 was used to derive the model. Multicollinearity was assessed, and variables contributing to the best fit of the final model, or most related and widely available in our setting, were retained in the final model. For application of the model, a bioclinical score chart was derived using the adjusted OR value of the predictors [
13
]. Overall research was completed in keeping with the Standards for Reporting of Diagnostic Accuracy (STARD) template [
14
].
Results
Discussion
In addition to age, we screened two additional high-risk factors that were significantly related to TPE, sex and BMI. There were 5 non-TPE patients scoring 11 (simultaneously having three high-risk factors: age < 45 yrs., male sex and BMI < 22), which directly demonstrated that these clinical characteristics could be an effective reference index for discerning TPE from other PEs. We often defined these patients as the population with a high incidence of TPE, also called the typical population. However, it is notable that the utility of ADA fluctuated distinctly by stratified analysis, and if it did not satisfy any one condition (defined as the unconventional population), it was inferior to the T-SPOT assay. The unconventional population is frequently the focal point and has difficulties in diagnosis; as a result, the PF T-SPOT assay can provide powerful identification evidence for these patients.
There are several limitations in the current study. First, the entire study was performed in a single centre that specialized in TB. The geography, relative single control composition and aetiological attribution error and/or bias were incalculable. Second, we obtained the optimal cutoff for the PF T-SPOT.TB assay from ROC analysis in this training cohort, and its definite accuracy would need further validation. Finally, 38.1% of the clinically diagnosed patients lacked the aetiological basis due to objective factors such as no sputum or unsatisfactory sputum with the detection standard, which may bias the sputum detection rate.
Conclusion
In conclusion, neither ADA nor IGRA can be defined as definite proof of ruling in or out TPE, but they can be used as powerful reference tools for TPE diagnosis. The overall accuracy of the PF T-SPOT assay was equal to that of ADA for diagnosing TPE in our study. In addition, the PF T-SPOT assay can effectively discriminate TPE patients with low ADA and is extremely superior to ADA in unconventional TPE patients (age ≥ 45 yrs., female or BMI ≥ 22), indicating that the applied population is wider than that of ADA. The PF T-SPOT assay is an excellent choice to supplement ADA to diagnose TPE.
Acknowledgements
Not applicable
Ethics approval and consent to participate
We complied with the World Medical Association Declaration of Helsinki regarding ethical guidelines involving human subjects. The study protocol was approved by the Ethics Committee of the Beijing chest Hospital affiliated with Capital Medical University, China. We obtained written informed consent from all participants, and the consent of the participants below age 18 years were obtained from their guardian.
Consent for publication
Not applicable.
Competing interests
JZ is an Associate Editor at BMC Infectious Diseases. All other authors have no any possible competing interests.
Open Access
This article is licensed under a Creative Commons Attribution 4.0 International License, which permits use, sharing, adaptation, distribution and reproduction in any medium or format, as long as you give appropriate credit to the original author(s) and the source, provide a link to the Creative Commons licence, and indicate if changes were made. The images or other third party material in this article are included in the article's Creative Commons licence, unless indicated otherwise in a credit line to the material. If material is not included in the article's Creative Commons licence and your intended use is not permitted by statutory regulation or exceeds the permitted use, you will need to obtain permission directly from the copyright holder. To view a copy of this licence, visit
http://​creativecommons.​org/​licenses/​by/​4.​0/​
. The Creative Commons Public Domain Dedication waiver (
http://​creativecommons.​org/​publicdomain/​zero/​1.​0/​
) applies to the data made available in this article, unless otherwise stated in a credit line to the data.
Publisher's Note
Springer Nature remains neutral with regard to jurisdictional claims in published maps and institutional affiliations.