12.06.2018 | Original Article - Peripheral Nerves | Ausgabe 8/2018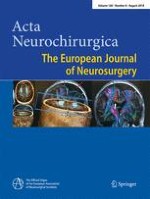 Use of ultrasound and targeted physiotherapy in the management of a nerve suture performed under joint flexion
Zeitschrift:
Autoren:

Mariano Socolovsky, Danilo Bataglia, Rafael Barousse, Javier Robla-Costales
Wichtige Hinweise
Comments
This is a case report of an 11-year-old boy who had a sharp laceration of his peroneal nerve below the knee. Unfortunately, he did not come to surgical exploration until 3 weeks later. After trimming back the neuroma, the authors were only able to obtain a primary reapproximation of the nerve by flexing the patient's knee. If one reads the vast literature on peripheral nerve injury that came out around the time of World War II, the technique of splinting a joint in flexion in order to get a primary reapproximation of a nerve injury was fairly common. Since that time, most nerve injuries that result in a significant gap between the nerve ends are treated by dissecting the nerve along its length in order to gain some mobility. If this maneuver does not allow the nerve ends to be reapproximated, a nerve graft is usually employed. Published results show that the results of a primary repair of the peroneal nerve are twice as good as the results that require an intervening nerve graft. The authors apply the old technique of flexing the patient's knee in order to be able to form a primary repair. What they add is the use of ultrasound. By monitoring the extension of the knee under ultrasound, they can be certain that the nerve repair is not under undue tension and probably equally importantly that the nerve repair has not been pulled apart. While I am sure that nerve grafts will still be the go to procedure for most peripheral nerve surgeons, this case report reminds us that there are other techniques available for getting a primary nerve repair.
Allan Friedman
North Carolina, USA
Abstract
Background
In 1915, when Delorme described three general requirements for successful nerve repair—(1) resecting scar until a healthy bed is secured, (2) excising damaged nerve until healthy stumps are reached, and (3) placing tension-free sutures, either by adequately mobilizing adjacent joints or nerve grafting—his work was heavily criticized. One century later, history has vindicated all but one of these claims. Flexing adjacent joints to avoid nerve grafts remains controversial, though this practice has increased in recent years.
Methods
An 11-year-old male suffered a penetrating domestic accident that resulted in complete foot drop. At surgery, a 6-cm gap was treated with direct nerve sutures, for which the knee was maintained in 60° flexion in a cast. To avoid damage to the nerve sutures, ultrasound and an intense, though cautious physiotherapy program were employed to guide the progression of knee extension.
Results
The patient started to show clear signs of peroneal motor function recovery within 3 months of surgical repair, and almost complete recovery by 4 months postoperatively.
Conclusions
Using physiotherapy and ultrasound might validate the classic joint-flexion technique in select patients with lower-limb nerve injuries.