01.12.2018 | Case report | Ausgabe 1/2018 Open Access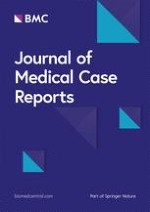 Usefulness of fluorodeoxyglucose positron emission tomography/computed tomography for detection of a neuroblastic nodule in a ganglioneuroblastoma: a case report
Zeitschrift:
Autoren:

Yuka Takeda, Hideki Sano, Asuka Kawano, Kazuhiro Mochizuki, Nobuhisa Takahashi, Shogo Kobayashi, Yoshihiro Ohara, Kazuhiro Tasaki, Mitusuaki Hosoya, Atsushi Kikuta
Abstract
Background
Ganglioneuroblastoma, nodular is defined as a composite tumor of biologically distinct clones. The peripheral neuroblastic tumors in this category are characterized by the presence of grossly visible neuroblastoma nodules coexisting with ganglioneuroblastoma, intermixed, or with ganglioneuroma. Making a correct diagnosis of ganglioneuroblastoma, nodular is often difficult by biopsy or partial tumor resection, because the neuroblastic nodule could be hidden and not sampled for pathological examination.
Case presentation
We report a case of a Japanese boy aged 3 years, 8 months, with an unresectable abdominal tumor and elevated vanillylmandelic acid and homovanillic acid levels. The initial biopsy was ganglioneuroma. However, after the second biopsy from a hidden neuroblastoma nodule that was clearly highlighted by fluorodeoxyglucose positron emission tomography/computed tomography, we reached the diagnosis of ganglioneuroblastoma, nodular. Because the nodule demonstrated neuroblastoma, differentiating subtype, with a low mitosis-karyorrhexis index (favorable histology) and nonamplified
MYCN
, the boy was treated according to the intermediate-risk protocol and is now alive and well 4 years after the diagnosis.
Conclusions
This case illustrates the critical role of fluorodeoxyglucose positron emission tomography/computed tomography for detecting a neuroblastoma nodule in a ganglioneuroblastoma.